A Life Saved!
Category: Blog
Posted On:
Written By:

PVHMC - Admin
After reading a "US News and World Report" magazine article about our Heart program Fred Faught, of La Verne, told his wife Joanne to always take him to Pomona Valley Hospital Medical Center (PVHMC) if something happened to him.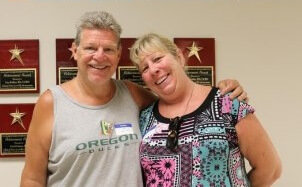 Well, the night of May 24, 2017, they went to bed, as they would any other night. While Joanne was brushing her teeth, Fred suffered a sudden cardiac arrest. The paramedics who arrived immediately started CPR as Fred had no heartbeat and was blue in the face.
They rushed to our Emergency Department (ED), where Fred was immediately attended to when a "Polar Alert" was called. Therapeutic Temperature Management (TTM), or the "cooling of the body," was performed.
He was then moved to the Cardiac Intensive Care Unit (CICU), and Joanne was carefully and slowly told what to expect from Oudom Skoulphong, RN, Fred's nurse. It would be another 54 hours before Fred's chilled body was warmed back to a normal temperature and he regained consciousness.
While he was foggy for a day or so, he has fully recovered! He is now in our Cardiac Rehabilitation program and living his life to the fullest! He and his family are so grateful for the wonderful care and skilled medical team that saved his life.
Dr. Parikh and Dr. Merla, his cardiologists, are continuing to monitor and care for Fred. They say that quick action from the paramedics and the ED team who began TTM, to care in the CICU, to Rehabilitation collaboratively saved his life!
Pictured: Fred and Joanne returned to the CICU to thank his care team, who took such great care of them!