The True Meaning of Family-Centered Care
Posted On:
Written By:

PVHMC - Admin
On January 24, 2017, Rob and Sebastien welcomed twins, Arkie, 6 pounds & 1 ounce, and Louis, 6 pounds & 6 ounces, into the world via a surrogate mother at Pomona Valley Hospital Medical Center (PVHMC).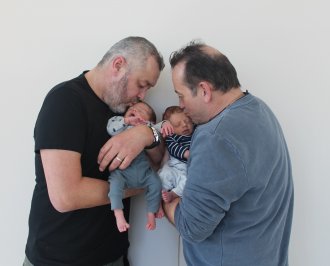 The couple, from England, says it was challenging to welcome their babies into the world with their own support system of family and friends more than 6,000 miles away.
"We were scared and far from home, but our nurses, doctors and the staff made us feel welcome," says Rob. "They've shown us nothing but love and care each step of the way."
PVHMC's Women's Center, which births more than 7,000 babies each year, is dedicated to providing a meaningful, fulfilling family experience. From being present during the delivery to offering a full continuum of care and preparation for new moms and dads, PVHMC is truly a family-friendly delivery center.
"Being in the room during the birth was the best experience," says Sebastien. "We feel so lucky because we weren't expecting to both be a part of it."
"The people who cared for our family - the two of us, our sons, and our incredible surrogate - have become our nearest and dearest. It's been five years in the making, and we really couldn't have asked for better service."
To learn more about Maternity Services at Pomona Valley Hospital Medical Center, please visit: www.pvhmc.org/#Maternity_Services.