Water Safety is a Priority!
Category: Blog
Posted On:
Written By:

PVHMC - Admin
It's hot outside and many parents take to the pool to help their children cool off and burn some energy. While it can be fun for the whole family, safety needs to come first. Drowning is the leading cause of unintentional deaths for children between 1 and 4 years old. Here are some pool safety tips for you to keep in mind when preparing for a day in the water.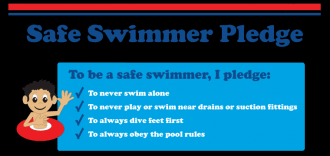 Know What to Do in an Emergency. If a child is missing, check the water first. Seconds count in preventing death or disability.
Know how and when to call 9-1-1.
If you own a home pool or hot tub, have appropriate equipment, a cell phone, life jackets and a first aid kit immediately available at all times.
Maintain Constant Supervision
Maintain adult supervision at all times. If you need to step away, even if for only a few seconds, be sure another adult is aware and able to supervise in your place.
Be sure each adult knows when the other adult leaves the area. Such as, "Watch Joey, I am going to the restroom!" Never assume the other adult is watching the child/children.
Actively supervise kids whenever around the water—even if there are lifeguards present.
Always stay within arm's reach of young children and avoid distractions when supervising children around water.
Make Water Safety Your Priority
Never leave a young child unattended near water; teach children to always ask permission to go near water.
Establish rules for your family and strictly enforce them. Some examples include: no swimming alone, not letting anyone play around drains, and not allowing swimmers to have breath-holding contests.
When at a public place, swim only in designated areas supervised by lifeguards.
Have young children or inexperienced swimmers wear U.S. Coast Guard-approved life jackets around water, but do not rely on life jackets alone.
Ensure that everyone in the family learns to swim well. Enroll in age-appropriate courses.
Avoid alcohol use. Alcohol impairs judgment, balance and coordination.
When Around Pools and Spas: Prevent Unsupervised Access to the Water
Install and use barriers around your pool or hot tub. Safety covers and pool alarms should be added.
Ensure that barriers enclose the entire pool area.
If you have an above-ground pool, remove ladders and secure the safety cover whenever not in use.
Remove anything that provides access to the pool, such as outdoor furniture, climbable trees, and playground equipment.
Keep toys that are not in use away from the pool and out of sight.