Annual New Beginnings Picnic
Category: Blog
Posted On:
Written By:

PVHMC - Admin
We hosted our Fourth Annual New Beginnings Picnic on July 26 to celebrate cardiac rehab, heart failure and stroke survivors along with their families and caregivers.
While both heart and stroke patients have individual support groups, this picnic provided the opportunity for survivors and caregivers to come together to share their experiences and celebrate triumphs. Our cardiovascular team also reconnected with patients they have previously cared for and treated.
"When you see patients in the hospital you know you are not seeing them at their best – they're in the hospital after all. But, getting to see them here where they are healthy and able to be themselves is very special," said Cathy Gilbertson, PVHMC's Cardiac Valve Coordinator.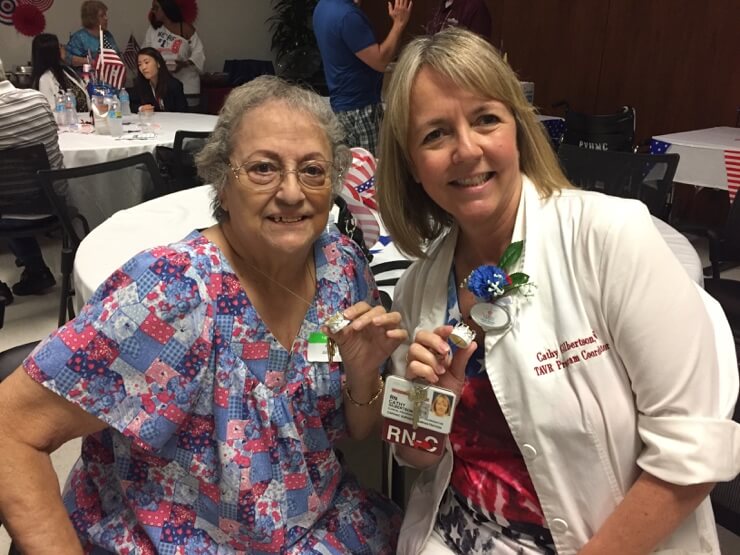 Amelia Chacon was diagnosed with aortic stenosis and received care from Cathy during a life-saving Transcatheter Aortic Valve Replacement, or TAVR. She proudly wears a replica of the TAVR as a charm on her necklace every day and refers to it as her crown. "It was given to me by Cathy, who is my special nurse and my special friend. She's been wonderful to me and I was so surprised and happy to see her here today. I've got all these Pomona Valley Hospital angels with me here. This is my hospital."
Wendell Burkhalter, who has suffered three strokes since 2009, and his wife, Gussie Burkhalter, also attended the picnic. "When Wendell had his first stroke, I was so relieved that they brought him to our favorite hospital," said Gussie. "Everyone here is so knowledgeable and caring. And it is so rewarding to be able to get together at events like this and talk with others that have had similar experiences."
Other festivities included delicious food, karaoke, a caricature artist, a friendly game of Heads or Tails and a rather competitive game of Family Feud – stroke patients versus heart patients. While the stroke team won this round, the heart team will be back and ready for the challenge next time!