We've opened our fifth health center in La Verne to serve primary and urgent health care needs
Category: Blog
Posted On:
Written By:

PVHMC - Admin
We have expanded our health care footprint in Los Angeles County by opening our fifth Pomona Valley Health Center (PVHC) in La Verne. The new facility opened February 12, 2018 and will now give residents a nearby choice for primary and urgent health care as well as diagnostic and outpatient rehabilitation services.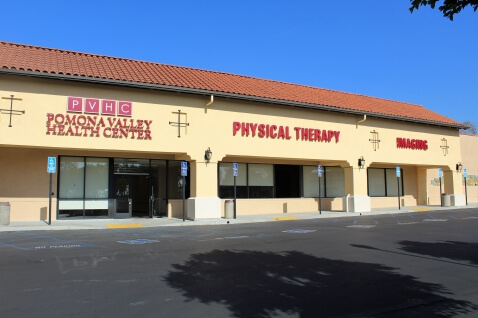 "The opening of the La Verne Health Center furthers our commitment to deliver high-quality and convenient health care and wellness programs close to home. We've had the privilege of serving La Verne families for decades at our other facilities," said Richard E. Yochum, FACHE, president/CEO. "We're pleased to now offer La Verne and San Dimas residents comprehensive health care services – from pediatrics to adult care – at a single location in their community. We're also delighted to welcome the La Verne Health Center physicians to our health care family."
The new La Verne Health Center furthers our commitment to population health with the goal of keeping people well within their community. The 33,500 square-foot center is designed to be a more convenient place for patients to access comprehensive medical and health care services from Premier Family Medicine Associates physicians. We anticipate accommodating 13,000 primary care, 17,000 urgent care, and 10,000 physical therapy visits annually through this new center. Among the physical therapy services available, the new La Verne center offers aquatic therapy in a Medicare-approved warm water pool. In addition, radiology services, including ultrasound, computed tomography (CT) scans, magnetic resonance imaging (MRI) tests and mammograms will be offered.
Primary care at our new La Verne facility is overseen by Medical Director Michael Deanda, M.D. Dr. Deanda provides comprehensive health care to patients of all ages, and occupational medicine for injured workers. He also delivers compassionate hospice and palliative care to patients in need of end-of-life care.
The other primary care providers are William Casas, M.D.; Craig Endo, M.D.; Tiffany Endo, M.D.; and Claudia Lopez, M.D.
Medical Director Stefan Reynoso, M.D., will lead urgent care services along with Associate Medical Director Saman Aboudi, M.D. Dr. Reynoso brings 16 years of experience practicing medicine. His goal as medical director is to imbue PVHC with courtesy, respect, and professionalism. Dr. Aboudi has been practicing medicine since 2004. As assistant medical director of PVHC Urgent Care, his philosophy is to treat every patient like a member of his own family and relate to them in a genuinely compassionate and personal way.
Teri Yoshitake, M.D., Dana Homer-Bertrand, D.O. and Monique Castro, M.D. also will be part of the urgent care team.
PVHC La Verne is located at 2333 Foothill Boulevard. Family medicine services will be offered 8 a.m. to 5 p.m., Monday through Friday, while urgent care and occupational medicine will be open 8 a.m. to 8 p.m. Monday through Friday, and 9 a.m. to 5 p.m. on weekends and most holidays.
In addition to the new location in La Verne, we also operate two health centers in Chino Hills and centers in Claremont and Pomona, plus its flagship hospital in Pomona.
To learn more about our new La Verne facility, please visit mypvhc.com.