Family Nutrition Resolutions for 2020
Category: Blog
Posted On:
Written By:

PVHMC - Admin
Start the new year by teaching your family the importance of food and nutrition. This means food to fuel busy, successful lives and nutrition to nourish strong bodies and nimble minds. We can all help our families to be healthier eaters and start them on the road to wellness. Need a few tips? Try these:
Serve regular, balanced meals and snacks with a variety of nutrient rich foods
Make meal times calm and pleasant so everyone can talk and share their day
Remove distractions such as television, phones and tables so that your attention is on each other
Explore a variety of flavors and foods from different cultures and cuisines
Share an appreciation for healthful food, lovingly prepared and shared with others
Make simple food safety, such as washing hands, part of every eating occasion
Teach basic skills for making positive food choices away from home
Find credible food and nutrition resources when you don't know the answer
Get the Kids Involved in Nutrition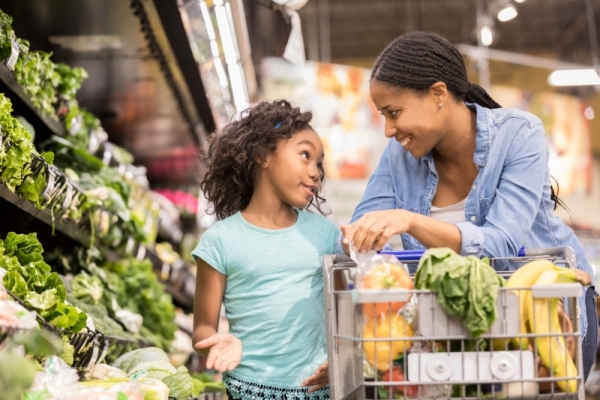 This one is fun for everyone and can happen anywhere — your kitchen, the grocery store or even a community garden. Every trip through the supermarket can be a fun nutrition lesson.
Kids can learn to categorize food into groups: grains, fruits, vegetables, dairy and protein foods. They can choose new foods they want to try, including picking out a new fresh, frozen, canned or dried fruit each trip. As children get older, they can help plan the menu at home and then pick out the foods to match the menu items while shopping. These seemingly small decisions can help them foster positive nutrition habits in their futures.
Here's an easy and quick recipe to get you started on a healthier lifestyle. We hope everyone will enjoy this delicious, colorful and nutrient-rich salad.
Rainbow Layered Salad
Ingredients
1-pint red grape or cherry tomatoes, quartered
1 cup shredded carrots
1 cup frozen corn kernels
2 Hass avocados, pitted and sliced into thin wedges
1 cup thinly sliced red cabbage
1 cup crushed blue corn chips
Juice of 1 lime
Juice of 1 lemon
¼ cup olive oil
½ teaspoon salt
Freshly ground pepper to taste
Directions
1. In a clear glass serving bowl, layer the tomatoes, carrots, frozen corn, avocados, red cabbage and blue corn chips in order. Let stand at least 15 minutes for corn to fully defrost.
2. Make salad dressing by whisking together lime juice, lemon juice, olive oil, salt and pepper.
3. Serve salad with dressing on the side.
Nutrition Information
Serving size: 1 cup of salad with dressing Serves 6
Calories: 285; Total fat: 21g; Saturated fat: 3g; Cholesterol: 0mg; Sodium: 229mg; Carbohydrates: 27g; Fiber: 7g; Sugars: 11g; Protein: 3g; Potassium: N/A; Phosphorus: N/A
*Recipe from Romina Barritta de Defranchi, DTR.