After Another Chance at Life, Young Motorcyclist Reunites with the Healthcare Team Who Saved His Life at Pomona Valley Hospital Medical Center
Category: News
Posted On:
July 7, 2022
In June of 2021, 24-year-old Victor Ramirez suffered severe head trauma in a motorcycle accident near his home in Montclair. Victor's heart stopped for several minutes in the ambulance, but paramedics revived him and rushed him to the trauma center at Pomona Valley Hospital Medical Center (PVHMC), where he survived.

Victor spent five weeks in PVHMC's trauma intensive care unit, which provides immediate critical care for all forms of injury. Two weeks into his intensive care battle, he again came close to losing his life when he went into respiratory failure. His healthcare team were ultimately able to stabilize his condition, and he began to improve, slowly but surely.
More than five weeks later, Victor finally regained consciousness. After months of hard work, he relearned to walk and regained his strength. He returned to work in January and his tremendous progress continues. He's active and works out three-days-a-week.
Alive and thriving after spending months rehabilitating from his serious injuries, Victor and his family returned to the hospital on Thursday, June 30, to reunite with the trauma staff that saved his life.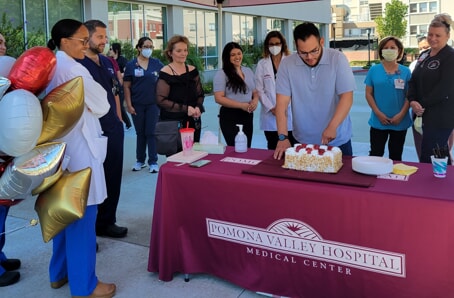 From his trauma surgeons, Andrew Michael, MD; Gabriel Estremera, MD; and Danielle Dabbs, MD, to the dozens of his nurses and healthcare team members, Victor was able to share an update on his new life, all thanks to the exceptional care he received from them.
"I feel like I've been doing very well mentally, spiritually and religiously," said Victor. "I'm so grateful that I get to meet the team who saved my life and thank them, and I want everyone to know that PVHMC cares and does a lot for us."
Learn more about Trauma Care at PVHMC here.