A Woman Finds Peace in the Chaos of Cancer
Category: Blog
Posted On:
Written By:

PVHMC - Admin
Julie Henderson had always been interested in Buddhism, and when she visited the Middle Land Chan Monastery in Pomona in 2013, she realized it was where she belonged. Through the practice of Buddhism – which she describes as a lifestyle rather than a religion – Julie, 68, learned to think positively, live in the moment and let go of hindrances. It's not a coincidence, she said, that she found Buddhism just a month before she was diagnosed with inoperable stage IV colon cancer and given two years to live.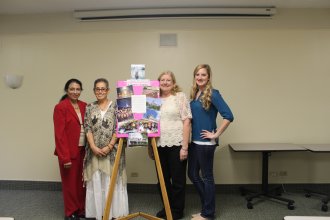 Last spring the monastery, which Julie visits nearly every day, invited her to participate in its annual spiritual retreat in Taiwan. Excited, Julie shared the news with her Doctor Swarna Chanduri, a medical oncologist on staff at Pomona Valley Hospital Medical Center (PVHMC).
"She was really looking forward to it," Dr. Chanduri said. But a month later the trip was off; Julie simply couldn't afford the airfare, the only expense the monastery didn't cover. "For the lack of only $1,000, she was going to miss out on this deeply important experience."
Dr. Chanduri looked into organizations like the Make a Wish Foundation, but discovered they were all for children. There was nothing comparable for adults. She mentioned her frustration to Beth Brooks, a well-known community fundraiser and cancer survivor who is also a patient of Dr. Chanduri.
"It touched my heart," Beth said. "I didn't know anything about Julie except that she wanted to go on this trip. I came home and shared the story with my daughter, Mary."
The next day, they had a plan. For two days in June, O'Donovan's Pub in Pomona agreed to donate 20 percent of its proceeds to PVHMC Foundation, and through the Claremont Club's Art of Giving program, the funds would pay for Julie's plane ticket. Beth and her daughter called the fundraiser "A Woman's Journey to Find Peace in the Chaos of Cancer."
Julie flew to Taiwan with 30 others from her monastery in August. "It was the most positive thing I've ever experienced," she said of the 12-day pilgrimage. "When I was in Taiwan, I felt so strong and healthy. I felt so peaceful and so good."
What's more, Julie said when she came back her tumors had shrunk and surgery might be possible. "I want others to know what I now know; that your mind is powerful. Never give up. There's always hope."
Beth said that her act of making a difference for Julie was simply giving back. "Pomona Valley Hospital saved my life once, and I owe the Hospital a huge debt. I know how miserable cancer is. I just felt that if it was important enough for Dr. Chanduri to lay on my heart, then I should do something about it."