Defying the Odds
Category: Blog
Posted On:
Written By:

PVHMC - Admin
Like many mothers, Emaya Dilworth, 44, enjoys baking and caring for her four children, who range in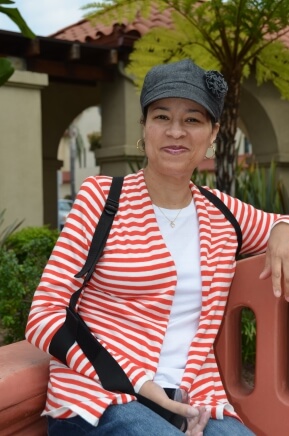 age from 10 to 24. The difference is that Emaya is doing it despite a massive stroke two years ago that left her partially paralyzed and unable to talk or swallow.
Against all odds, including just a five percent chance of a meaningful recovery, Emaya is thriving, thanks to her family, Pomona Valley Hospital Medical Center (PVHMC) and her own determination.
Paramedics rushed Emaya to PVHMC in 2014 when her mother found her unresponsive one morning. Tests showed that a large stroke had affected the entire left side of Emaya's brain.
"Because of swelling, Emaya had a portion of her skull removed so the brain would have a place to expand," said her father, Carl Douglas. "The damage to her brain was quite extensive. We were told Emaya had a 10 percent chance of never speaking again and a 5 percent chance of not remaining in a vegetative state."
But after intensive stroke treatment at PVHMC's Stead Heart & Vascular Center, followed by weeks of inpatient rehabilitation at another facility, Emaya slowly began to improve. After many more months of outpatient rehabilitation and encouragement from the PVHMC Stroke Support Group, she progressed from needing round-the-clock care from her parents to living independently at home with three of her children (the oldest is in the Air Force).
"She can talk, walks with a cane, and lives alone without the need for full-time help from family or friends," said Katrina Woolfolk, PVHMC Stroke Support Group Facilitator. "When she first came to us, she was wheeled in by her father. She had very little speech and a lot of difficulty with word-finding. She now walks into stroke support and her speech is remarkably improved. She is happy, upbeat and feels truly blessed to be alive. Stroke recovery is a lifelong journey filled with highs and lows and Emaya is an outstanding example of our stroke support motto: "We do Survive, We do Recover, We do Thrive."
PVHMC offers a multitude of resources that are available to all stroke patients. These include the Stroke Support Group, inpatient rehabilitation and outpatient rehabilitation, which includes three types of specialized therapies in PVHMC's Rehabilitation Services department – speech therapy to improve swallowing abilities, speech-language and comprehension and problem-solving skills; occupational therapy to address physical, cognitive, and emotional challenges; and physical therapy to help patients regain mobility.
To learn more about our advanced stroke capabilities and rehabilitation resources, visit pvhmc.org.