Clearing Up Confusion About What Age to Begin Screening Mammograms
Category: Blog
Posted On:
Written By:

PVHMC - Admin
A recent recommendation by the U.S. Preventive Services Task Force, which challenges the value of mammograms for women in their 40s, has garnered a lot of attention. The task force emphasizes that routine screening before age 50 increases the risk of a false-positive result, which could lead to unnecessary and often costly procedures and treatment.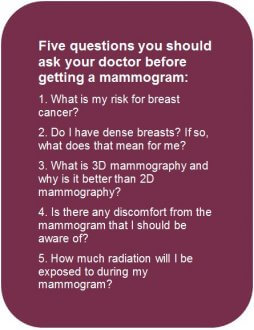 However, in fall 2015, the American Cancer Society (ACS) revised its recommendations to state that women aged 45-54 who are at average risk should undergo yearly mammograms, and that women age 55 and older should undergo mammograms every two years. The ACS says women 40-44 should have the option to start annual mammograms if they chose to do so.
No wonder women are confused.
Delaying routine screening mammograms until age 50 potentially puts women at risk for late-stage detection of breast cancer that would otherwise be discovered early with annual mammograms beginning at age 40.
Mammography is still the only proven means for detecting breast cancer early, when it's most treatable.
Mammography technology has improved vastly in recent years. In fact, several studies have shown that the latest advancement, digital breast tomosynthesis (3D mammography), improves cancer detection rate by 40 percent or more, and decreases recall rates by 30 percent or more compared with conventional mammography.
While many breast care centers only offer 3D mammography to women with dense breast tissue, Pomona Valley Hospital Medical Center (PVHMC) is the only breast center in the region to offer digital 3D mammography to all patients who visit the Pomona, Chino Hills and Claremont locations. The Hospital has also invested in a new technology that decreases the amount of radiation during a 3D mammogram.
PVHMC recommends starting annual screening mammograms beginning at age 40. However, each patient is different and ultimately, the decision on when to begin screening mammograms is between the individual patient and her doctor.
To schedule a 3D mammography appointment, call PVHMC's breast health center at (909) 469-9395.
Dr. Paul Reisch is Medical Director of the Breast Health Center at Pomona Valley Hospital Medical Center.