Training Tip: Choose Your Running Socks Wisely
Category: Blog
Posted On:
Written By:

PVHMC - Admin
Thinking about running (or walking) in the upcoming Holiday Half Marathon or 5K? Tip #3 is here to help you prepare for race day.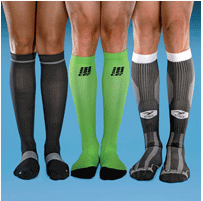 Training Tip #3: Choose Your Running Socks Wisely
All the pavement pounding while running mile after mile means one very important thing — you have to make sure to keep your feet healthy. Long training runs and the race itself can cause painful blisters if you're not wearing the right kind of sock. Running socks come in many different materials, thicknesses, and sizes. To help sort out all the choices, here are our recommendations.
When choosing a sock for running, the most important factor to consider is the material. You want to stay away from 100% cotton socks. Once cotton gets wet, it stays wet. So, when your feet sweat or you step in a puddle, the moisture won't get wicked away. Wearing cotton socks for long runs in the winter will actually make your feet feel cold and clammy. And they're guaranteed to cause blisters in the summer!
The best running socks are ones that are made from synthetic materials such as polyester, acrylic, and CoolMax because they'll wick away moisture. For winter running, wool blends such as SmartWool are also a good choice. Some runners choose to wear double-layer socks (WrightSock is one brand) for additional blister protection.
Although some runners like thicker socks for additional cushioning, others prefer thin socks for a "lighter" feel, especially in warmer weather. When shopping for running shoes, make sure you try on the actual socks you'll be using as some socks will require you to go up a half shoe size.
Try this site for more information about running socks:
http://www.runnersworld.com/running-apparel/choose-right-running-socks
Race day is about six weeks away. Get in the spirit and start shopping for your holiday running gear, but remember –your feet are what will get you to the finish line– so make sure you keep them healthy and happy in this event of the season!
If you have any questions about the upcoming Holiday Half, please check out the Run Racing website: