Flu Shot during Pregnancy, do you really need it?
Category: Blog
Posted On:
Written By:

PVHMC - Admin
ts flu season & you're pregnant, should you get the flu shot? Yes.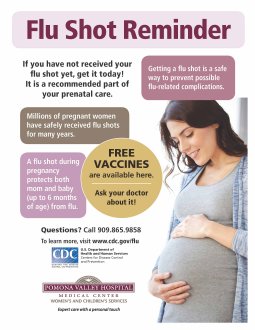 According to the Centers for Disease Control and Prevention (CDC), getting a flu shot during pregnancy provides protection for both mom and her developing baby from serious flu-related complications.
Even generally healthy women who are pregnant face a high risk of complications from flu viruses, some of which can lead to hospitalization or even death. Severe illness from the flu during later stages of pregnancy can even lead to premature labor and delivery. Yet, statistics from the CDC say that only half of pregnant women are getting their flu shots.
What's stopping you?
Below are a few common myths about receiving the flu shot during pregnancy:
Myth: The flu shot will give me the flu.
All flu vaccinations are made with a dead, inactivated virus and cannot cause flu illness. Vaccinations greatly reduce your chances of catching a virus; however, the flu shot isn't 100 percent effective. It only protects against the flu viruses which are expected to cause the most problems in a given flu season. If you do catch a virus, the flu shot will also help to lessen any symptoms you may have.
*Note: Pregnant women should NOT receive the nasal spray flu vaccine because it is made with a live, weakened virus.
Myth: The flu shot isn't safe.
The flu shot has been given to millions of pregnant and breastfeeding women over the years and no harm has been shown to come to mothers or babies. Side effects may include soreness and redness at the site where the shot was given, but should only last one to two days.
On the contrary, getting a flu shot prevents potential maternal complications due to the flu. When you're pregnant, your risk of developing respiratory illnesses, such as pneumonia, increases significantly.
Myth: It's unnecessary.
Think about it this way – a flu shot doesn't just help protect you; it continues to protect your baby after birth. When a pregnant woman is vaccinated, the baby is born with flu antibodies that will help protect them from the flu for up to six months after being born. This is especially important because babies cannot receive a vaccination on their own until they are at least six months of age, and are at the highest risk of having complications from the flu.
Myth: I'm too early/far into my pregnancy to receive the flu shot.
Flu shots can be safely administered to women in any stage of their pregnancy. It is recommended that you receive the flu shot as early in the flu season as possible.
Do not get a flu shot if you're already sick or have a fever. Your physician may recommend waiting until your symptoms are gone.
Myth: I got the flu shot last year, so I don't need this one.
You need an annual flu shot because different strains of flu come around every year. Updated vaccinations will give you optimal protection against the flu.
So, how do you feel about getting the flu shot now?
For more information on the importance of flu vaccinations during pregnancy, visit Pomona Valley Hospital Medical Center's YouTube page and view Dr. M. Hellen Rodriguez's, Medical Director of Maternal-Fetal Medicine at Pomona Valley Hospital Medical Center, videos:
www.youtube.com/watch?v=kUnflRnj-Ls