PVHMC's Rehabilitation Services Patients Bring Spirit and Hope to Holiday Run/Walk
Category: Blog
Posted On:
Written By:

PVHMC - Admin
In December, six patients from Pomona Valley Hospital Medical Center's (PVHMC) Charles M. Magistro Physical Therapy and Rehabilitation Services participated in the Holiday 5K, Half Marathon and Penguin Waddle events. The participants, founding members of PVHMC's first "I Can Do It" team, hope to show physical therapy and rehabilitation patients, regardless of their medical conditions, that achieving recovery is not impossible with the help of therapists, and that they can be active again.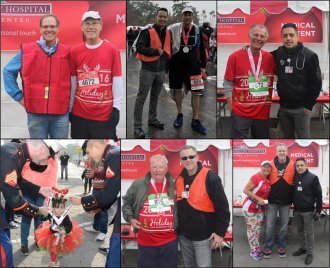 Ranging in age from two to seventy-two, each of the six participants are part of PVHMC's Rehabilitation Services programs, which include the Milestones Center for Child Development, cardiac rehabilitation, orthopedic rehabilitation, back and neck therapy, and occupational therapy. Patients were invited to participate by Rehabilitation Services therapists, who provided expert training tips, advice and encouragement to help them prepare for race day.
"I joined this team to help spread the word and encourage others to be active and be well," said Jon Blickenstaff, 72, former Mayor of La Verne. "I want to show people that physical therapy can help you stay off medication while restoring your mobility and eliminating pain – it can help you get back to a normal life."
After receiving a diagnosis of bilateral drop-feet, Jon, was treated in Rehabilitation Services' orthopedics program. He now participates in PVHMC's Wellness & Aftercare programs, which allows patients to be guided through structured recovery from a specific injury, disease or illness.
"Almost a year ago I could barely walk," added Jon. "And now my hard work has finally paid off and I've just completed a 5K."
Five additional PVHMC patients joined Jon in the annual holiday run/walk events, including:
Keith Beeman
Keith Blickenstaff, 58, of Apple Valley, underwent cardiac surgery and has been a part of the Cardiac Rehabilitation program at PVHMC.
"The care I have received from the Cardiac Rehabilitation team has helped to build my confidence and give me a more positive outlook on my quality of life," says Keith.
Due to a scheduling conflict on the date of the 5K, Keith decided to that he could complete the first leg of the half marathon instead, which is approximately 4.5 miles. PVHMC is proud to announce that Keith crossed the finish line after finishing the entire half marathon!
Marvin Pitts
Marvin Pitts, 63, of Pomona, began having problems with atrial fibrillation (explanation), in 2012. After having a catheter ablation procedure done at the Stead Heart and Vascular Center, and has since been a part of Rehabilitation Services' Cardiac Rehabilitation program. Marvin also makes sure he stays in cardiovascular shape by coming to PVHMC's Stead Health and Wellness Gym every day.
"My doctor is always telling me that I need to get in shape and stay in shape so that I can be healthy," says Marvin. "I have never done a 5K before, so I thought, what better way to challenge myself?"
Marvin completed the 5K with a combination of running and walking and added that "this run is a big step in my personal commitment to health and wellness."
John Hayes
John Hayes, 54, a Chino Hills resident, developed a calcium deposit in his Achilles tendon. Inflammation and pain led him to seek therapy in the Rehabilitation Services' orthopedics program at the Pomona Valley Health Center in Chino Hills.
"I've enjoyed running and mountain biking for many years," said John. "The pain I had in my Achilles tendon prevented me from doing these things, but the excellent care I have received in this orthopedics program has helped me get back in my running shoes and on my bike."
Over the course his twelve-week therapy program, he was back training for half marathons and mountain biking without pain. Soon, John says he'll be able to start training for full marathons and triathlons again.
Zuhayry Plascencia
Zuhayry Plascencia, 2, of Montclair, has been a long-time patient at the Milestones Center for Child Development, a Rehabilitation Services program focusing on speech and language, physical therapy and occupational therapy for pediatric patients. Her mother, Adalit, brought her to Milestones due to issues related to prematurity, hydrocephalus, hemiparesis (weakness on one side of the body) and feeding tube problems.
Through hard work and time with therapists at PVHMC, Zuhayry is now able to walk, has more control of her body movements, and is even talking! She completed a 100-ft. walk/run in the Kids Penguin Waddle and was presented with her medal by two Marines at the finish line.
Billie Pate
Billie Pate, 66, of Upland, came to Rehabilitation Services' Occupational Therapy program after a work injury left her with a crushed hand. With more than seven months of therapy with PVHMC certified hand therapist, Jiansan Ding, she has been able to gradually increase her range of motion.
"I couldn't button a shirt, comb my hair or even brush my teeth," says Billie. "Now I am back at work full time. The therapy I received at Pomona Valley Hospital Medical Center has brought my life back."
Billie decided to participate in the 5K to gain back her confidence. With another few months of therapy, she hopes to make a full recovery and continue training for triathlons.
The Holiday Half Marathon, 5K & Kid's Run is held each year at the Fairplex in Pomona and is produced by Run Racing, LLC. Pomona Valley Hospital Medical Center is a Gold Charity Partner; proceeds from fundraising directly benefit Rehabilitation Services' Milestones Center for Child Development and the Sports Medicine Center at PVHMC. For more information, visit www.runholidayhalf.com.
For more information about PVHMC's Rehabilitation Services programs, visit www.pvhmc.org/#About_Rehabilitation_Services.
PHOTO: PVHMC's "I Can Do It" Participants and members of the Rehabilitation Services Team (from left to right): Joseph Baumgaertner, Director of Rehabilitation Services, with Keith Beeman; Donald Kuy, Physical Therapist, with John Hayes; Jon Blickenstaff with Jeff Ijadi, MD, Sports Medicine Physician; Marines honoring Zuhayry Plascencia with her finish line medal; Marvin Pitts with Rick Rossman, Associate Director of Rehabilitation Services; and Billie Pate with Rick Rossman and Dr. Ijadi.