Women's Health Care is a Local Issue
Category: Blog
Posted On:
Written By:

M. Hellen Rodriguez, M.D.
Long before the advent of the Affordable Care Act, Pomona Valley Hospital Medical Center (PVHMC), was making big strides towards improving access to care for women in our immediate and surrounding communities. Thirty years ago the Hospital made it a priority to provide state-of-the-art care to the women in the region by investing in both the physical and the human resources necessary to accomplish that vision. In 1987, PVHMC was the first community hospital in the area to bring in Maternal-Fetal Medicine specialists to care for women with high-risk pregnancies. It was also the first hospital in the area to establish a high-risk unit, a maternal transport team, a 24-hour in-house obstetrics program and 3D mammography to all women undergoing mammograms.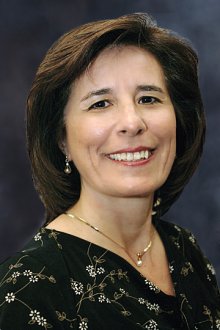 The efforts have not gone unnoticed, in fact, today Healthgrades® named PVHMC the only hospital in Los Angeles, Riverside and San Bernardino counties to receive all three Women's Care Five Star Excellence Awards™ for its exemplary work providing women with obstetrics and gynecology, gynecologic surgery and labor and delivery care. PVHMC is also a five-star recipient for:
Vaginal delivery
C-section delivery
Hysterectomy
Gynecologic surgery
So, what does this mean? In 2017, PVHMC is among the top 5% of hospitals in the United States evaluated for overall obstetrics and gynecology and labor and delivery – and among the top 10% evaluated for gynecologic surgery.
There are well-defined reasons why PVHMC, the second largest birthing hospital in California with more than 7,000 births annually, has one of the lowest Nulliparous, Term, Singleton, Vertex C-section rates in the state – 16.2% vs. the federal target of 23.9% (first-time, low-risk mothers carrying a single baby that is not breach or in a transverse position); has been recognized as a Baby-Friendly hospital; and has reduced callbacks on mammograms. We've attained these achievements in women's care because we believe:
Labor inductions and C-sections for convenience should not be permitted.
Increasingly, we hear about a trend with more women asking to schedule when their baby may be born. Whether out of fear or for the sake of convenience, inductions and cesarean birth have become so common that many women now see these labor interventions as normal– but they're not.
Our labor and delivery team believes babies need a full 40 weeks of pregnancy to grow and develop and we do not allow inductions before 40 weeks for convenience. Labor inductions and C-sections should be for medically necessary reasons only.
While being done with pregnancy may seem tempting, especially during those last few weeks, inducing labor is associated with increased risks including prematurity, cesarean surgery, hemorrhage, and infection.
All new moms should have access to expert support to be able to leave the hospital breastfeeding.
PVHMC is the largest hospital in California to receive the prestigious Baby-Friendly designation. This international award identifies birth facilities that offer breastfeeding mothers information, confidence, and skills needed to successfully initiate and continue breastfeeding their babies. In 2016, 93% of moms left PVHMC breastfeeding.
Breastfeeding benefits for baby include reducing "colds" or respiratory infections; protecting against asthma; reducing the chance of diarrhea and bowel infections; decreasing bladder infections; protecting against Diabetes; and protecting against "crib death" or Sudden Infant Death Syndrome.
Mothers who breastfeed their babies reach their pre-pregnancy weight sooner; their uterus returns to pre-pregnant state faster; restore needed minerals that results in stronger bones and protection from osteoporosis; reduce risk of ovarian and/or breast cancer; decreases risk of postpartum depression; and save money not having to buy formula.
All women should have access to 3D mammography.
Digital breast tomosynthesis or 3D mammography significantly improves cancer detection rates and significantly decreases recall rates compared with conventional mammography. PVHMC was the first hospital in the region to offer 3D mammograms to all mammography patients.
We need to support legislation that improves overall access to care. However, regardless of what happens with national health care reform, with respect to women's health, PVHMC is committed to ensuring women in the region continue to have the highest quality maternal and gynecological care available. Women's health care belongs in the hands of patients and their providers – physicians and top-performing hospitals that have the expertise to provide the highest quality care while delivering value for both patients and insurers. Women's health care is a local issue.
Dr. M. Hellen Rodriguez is a perinatologist and medical director of Maternal-Fetal Medicine at Pomona Valley Hospital Medical Center. She also serves as chairwoman of the PVHMC Foundation board of directors.