A Life Saved
Category: Blog
Posted On:
When Fred Faught of La Verne read that U.S. News & World Report ranked Pomona Valley Hospital Medical Center (PVHMC) as one of the best hospitals in Los Angeles, he told his wife Joanne to make sure he went there if anything ever happened to him.
On May 24, 2017, something did. Just after going to bed, Fred, 61, suffered a sudden cardiac arrest. Unlike a heart attack, in which blood flow to a portion of the heart is blocked, cardiac arrest is a malfunction of the heart's electrical system, which causes the heart to suddenly and silently stop beating. Death can occur within minutes. Thankfully, Joanne noticed Fred's condition almost immediately and paramedics arrived fast.
"The paramedics told me later that when they got to my house I was dead," Fred said. "I had no pulse, and was completely unresponsive." But after more than 200 chest compressions and seven defibrillator shocks, Fred's heart began to beat again and he was rushed to PVHMC.
In the Emergency Department, a "Polar Alert" was called. A specially trained cardiac team responded and began following a detailed protocol to cool Fred's body from the inside out, using a specialized therapy called Targeted Temperature Management (TTM). TTM has been shown to save lives while minimizing the potential long-term complications of cardiac arrest.
"A cardiac arrest stops all blood flow to the brain and cells begin to die," explained Narid Ali Eltahir, MD. "When the patient is resuscitated and blood flow is reestablished, toxic materials that have built up in the blood can cause brain damage. There is also an inflammatory response that can cause further neurologic injury. TTM counteracts many of these destructive brain mechanisms."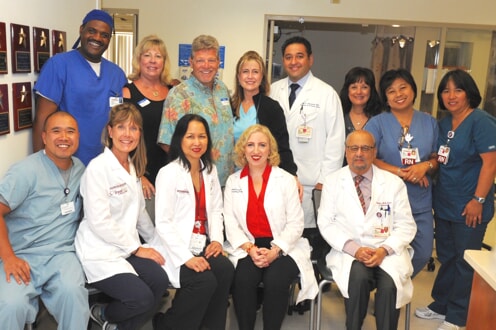 In the hospital's Cardiac Catheterization Lab, Interventional Cardiologist Guarav Parikh, MD, inserted a cooling catheter into Fred's femoral vein while Dr. Eltahir inserted another catheter into his artery to monitor blood pressure. A probe was also inserted to measure his internal temperature. Fred was then moved to the Cardiovascular Intensive Care Unit (CVICU), where chilled saline solution was circulated through the catheter in his vein, using a special machine. As Fred's blood flowed over the cold catheter, his core body temperature quickly dropped to 33 degrees Celsius (91 degrees Fahrenheit).
On a ventilator, heavily medicated and closely monitored by the hospital's highly experienced CVICU team, Fred was kept in a state of induced hypothermia for 24 hours. His family could only watch and wait.
"They told us not to talk because they didn't want any stimulation going to his brain," said Fred's wife Joanne. "They wanted him very quiet so his body could rest. So my three adult children and I quietly stood by and prayed. Of course I was terrified but I knew we'd gone to the right place and were in good hands."
"Not being able to talk to him or touch him was hard," said Fred's daughter, Amanda. "But the nurses were absolutely amazing and so compassionate. That made it easier for us."
Then, very slowly, Fred's body was rewarmed. Finally, he opened his eyes and recognized his family. "I was very surprised to wake up in the hospital," Fred said. "I didn't remember anything that had happened."
He also doesn't remember suffering another cardiac arrest while still in the CVICU. This time, he was treated without TTM. To treat the abnormal heart rhythm that was causing his cardiac events, he had surgery to receive a pacemaker and an automatic implantable cardioverter-defibrillator (AICD).The two devices now work together to keep Fred's heart beating smoothly.
After his discharge from the hospital, Fred completed a cardiac rehabilitation program and has made a complete recovery, with no brain or long-term physical damage. "I don't have any restrictions or limitations on what I can do," he said. "I walked about four miles a day before my cardiac arrest and I'm back up to that. I'm very lucky. Only about two people out of a hundred survive what I went through. I'm so grateful to the paramedics and to the caregivers at PVHMC for what they've done and how well they treated my family."
"We are so blessed," said Joanne. "The staff at the hospital is wonderful. This is what they're trained for and they just did a remarkable job. They gave me great relief."