An Unexpected Wedding at PVHMC
Category: Blog
Posted On:
Written By:

PVHMC - Admin
Medical emergencies don't always have the best timing. For Rodney Heinrich, his emergency came just one day before he was to officiate a wedding. In his mind, there was no option but to make the best of the situation - which resulted in a wedding here at PVHMC!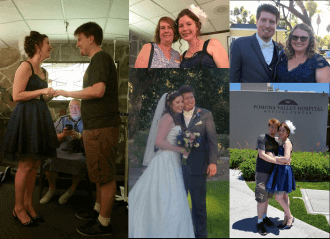 Desiree McMahon has worked as a registered nurse (RN) in Pomona Valley Hospital Medical Center's (PVHMC) Labor and Delivery (LDRP) department for nearly 25 years. Her son, James Wilson, and his fiancée, Julie Cyhaniuk, were planning a wedding at the Lindsey Scott House in Azusa on June 17, 2017 – the six-year anniversary of their first date.
On Friday, June 16, their minister and close family friend, Rodney Heinrich, collapsed in his car and was found unconscious two hours later. A random stranger woke him up and called Rodney's wife from his phone. Brigitte Heinrich, RN, happened to have been a Cardiac Intensive Care Unit (CICU) nurse at PVHMC for more than 30 years; she came and took him to PVHMC's Emergency Department, where he was treated and admitted for overnight observation. Meanwhile, the couple found another minister at the last moment to perform the ceremony.
On Saturday, the day of the wedding, Julie and James were heartbroken that Rodney would not able to officiate the ceremony. James had known Rodney since he was three years old (he was a ring bearer at his wedding), and Julie had gotten to know Rodney and his wife Brigitte over the last six years.
Around noon on Saturday, Rodney was feeling better and ready to be discharged in the late afternoon. He gave Julie and James the option of coming to the Hospital so he could officially marry them before the wedding. They made a split-second decision and rushed to the Hospital while getting ready for the wedding. Julie, with her hair curls pinned up, wore her "Doctor Who" TARDIS dress, white fascinator and heels. Her parents, Paul and Jill Cyhaniuk, Desiree and John McMahon, and daughter Jennifer McMahon, rushed to the Hospital. Also attending was a close friend and the wedding coordinator, Amanda, family friend Lynne Herring and the Heinrich family, Brigitte, Aaron and Alisa Heinrich. Lastly, her Aunt Debbie Kolodji and the photographer, John, also a close family member, all arrived at the Hospital.
The families all met in the Hospital chapel on the 3rd floor, and Rodney, wearing a Hospital gown, tie and socks with an IV, sat in a chair and officiated the wedding by reading his speech from his phone. They signed the marriage license, and Jennifer McMahon and Aaron Heinrich signed as witnesses!
Everyone rushed back to the house and continued to get ready for the second wedding ceremony. Rodney was released at 4:00pm, and while he was able to attend the wedding, he was in no physical condition to stand and officiate it. Luckily a friend, Steve Lambert (a professor at a local university and Baptist minister) was able to step in. At 5:30pm they were married again with Mr. Lambert reading Rodney's speech. Everything was beautiful, and they were so glad they were able to have the Hospital wedding with Rodney.
So, Mr. and Mrs. James and Julie Cyhaniuk-Wilson were married twice in the same day, but the official place of marriage was at PVHMC! We wish these two newlyweds health, love, and happiness!