Boot Camp for New Dads an Important Step in Preparing Fathers-to-be
Category: Blog
Posted On:
Written By:

PVHMC - Admin
Pomona Valley Hospital Medical Center's (PVHMC) Boot Camp for New Dads (BCND) is a unique workshop that inspires expectant new dads to be prepared before, during and after the birth of a baby. It gives them a safe space to learn to become confidently engaged with infants, support their partners, and personally navigate their transformation into dads. Communication, teamwork, and safety are the focal points of the workshop.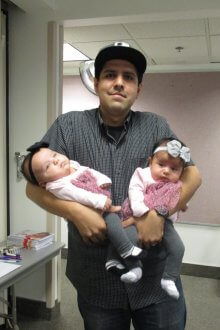 What makes this workshop so special are the veteran dads, each of whom were once rookie dads at a previous Boot Camp, who come back with their babies 2-3 months after their birth and show the dads-to-be the realities of parenthood. They demonstrate diapering, holding, feeding, and swaddling a baby; and talk about their personal experiences.
"Attending BCND allows new, expectant dads to gain confidence in their abilities and see real-life examples of success and survival as a new dad," says John Feith, who has been serving as the coach at the classes since 2007.
A few of the topics discussed include:
Changes in a new mom, such as post-partum depression
Finding a proper work/home life balance
Your relationship with mom
Handling a newborn
Introducing pets to baby
Safety
Feeding and changing baby
Calming a crying baby
Handling parents and in-laws
Breastfeeding
In honor of Father's Day, the Family Education and Resource Center would like to honor a very special dad, Carlos Ortiz, who attended our BCND as a rookie and came back to participate as a veteran dad on May 13th, 2017.
Carlos Ortiz is an amazing father. He graduated college with a business degree soon after he brought his twins, Amelia and Camila, home. When asked how he was able to juggle twin girls and completing his degree, he replied, "I didn't have choice, you just do it."
Carlos' hard work and dedication to his family are admirable and inspirational. He was calm while he tended to his babies and is a great example of a fantastic dad!
BCND classes are offered once a month on Saturdays, from 9am – 2pm, and are held at PVHMC's Women's Center.
The Family Education and Resource Center offers prenatal classes like this one as well as Childbirth Preparation, Breastfeeding and other classes. For more information, call 909-865-9858 or email ferc@pvhmc.org.