Introducing Hrayr Basmajian, MD, Orthopedic Trauma Medical Director
Category: Blog
Posted On:
Written By:

Jason Lanning, RN, CFRN - Trauma ICU
After five years of providing care for Orthopedic Trauma patients at Loma Linda University Medical Center, PVHMC is proud to welcome Hrayr Basmajian, MD, as the new Medical Director of Orthopedic Trauma.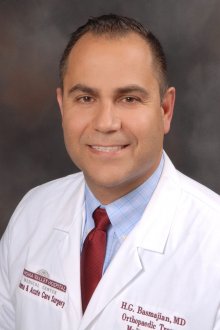 After growing up in Detroit, Michigan, Dr. Basmajian attended the Chicago Medical School, followed by an orthopedic residency at LAC+USC Medical Center. He completed an Orthopedic Trauma fellowship with the Sonoran Orthopedic Trauma Surgeons in Scottsdale, Arizona, and an additional fellowship in Hannover, Germany that focused on Ortho Trauma.
Initially considering a residency in Emergency Medicine, Dr. Basmajian's attention was immediately intrigued by Orthopedics during an ortho rotation in Medical School.
"I volunteered in the Emergency Room (ER) in Detroit and I fell in love with how fast-paced ER and Trauma are. Then in Medical School, my first case was a pelvic fracture…and I knew this is exactly what I wanted to do," says Dr. Basmajian.
"When I was young, my family was involved in a major motor vehicle collision," he adds. "We were all sent to different hospitals, and my mom was in the hospital recovering for seven months. I feel God leads us in our paths, and I was led to Trauma."
Dr. Basmajian has an immense passion for the patients' overall healing, including the long term recovery. "My goal is to provide each of my patients with excellent medical care, the best I can to optimize their recovery, and ultimately give them the best chance at a happy life."
PVHMC has a fantastic group of skilled Trauma professionals full of enthusiasm, optimism, and commitment to helping trauma patients through the entire healing spectrum. They are dedicated to working together through unforeseen challenges and obstacles towards solutions that are best for each and every patient. Dr. Basmajian complements this group and we are so honored to have him on the team.
For more information on Dr. Basmajian, [please click here. 
Welcome Dr. "B!"