Breaking the Breastfeeding Stigma Among African-American Moms
Category: News
Posted On:
Written By:

Yvette Wojtasiak, lactation specialist at Pomona Valley Hospital Medical Center
Across California, and the U.S., low rates of breastfeeding among African-American moms may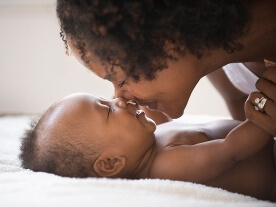 reflect the myths that prevent some women from breastfeeding.
My mother didn't breastfeed my sister or me, but when I became a mother, I chose to give it a try. I educated myself on the health benefits for baby: reducing respiratory infections, asthma, diabetes and Sudden Infant Death Syndrome. The health benefits for mom include protection from osteoporosis, reduction in ovarian and breast cancer, and postpartum depression.
For these reasons and more, we need to encourage new African American moms to try to breastfeed and support them along the way. That can start with the lactation team at a birthing hospital, like Pomona Valley Hospital Medical Center (PVHMC), who can help address the myths many moms have heard:
MYTH: It's painful. TRUTH: If it's painful, lactation specialists are available to show you how to make it a relaxing and bonding experience.
MYTH: It is easier to give a bottle. TRUTH: Sterilizing and prepping bottles is time-consuming and inconvenient – and formula is expensive.
MYTH: I have to go back to work, so I won't be able to pump. TRUTH: Employers are required by law to accommodate new moms by providing them with the time they need and a private place for pumping. Women Infants and Children (WIC) provides eligible moms with breast pumps after returning home from the hospital.
PVHMC is a designated Baby-Friendly hospital. That means PVHMC offers breastfeeding mothers information, confidence, and skills needed to successfully initiate and continue breastfeeding their babies. Our goal is to help all moms leave the hospital breastfeeding and be able to continue successfully at home. In fact, 93 percent of new moms leaving our hospital breastfeeding.
Once new moms are back at home, they are not alone. They can call the Breastfeeding Hotline at (909) 623-6455 for phone consults, or even return to Pomona Valley Hospital Medical Center with their baby for one-on-one breastfeeding support.