Pedaling Past a Hamstring Injury with Physical Therapy
Category: Blog
Posted On:
Written By:

PVHMC - Admin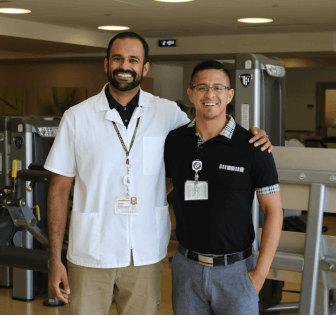 As Garret Lopez, a 39-year-old Glendora resident, began to ride his bike up a steep section of the Corona Hills, he began to feel pain behind his knee. He pushed through the pain by restricting the rest of his 40-mile session to using only one leg. At home, he elevated his leg, took Advil, applied ice and even used an at-home e-stimulation machine, but after two weekends of continued training rides, the pain was still being felt and had become unbearable.
As much as he wanted to ignore his injury, Garret knew he had to do something soon. In three short months, he would be participating in the 552-mile AIDS/LifeCycle (ALC), which raises both funds and awareness for the San Francisco AIDS Foundation and the Los Angeles LGBT Center. It was supposed to be his third consecutive year riding, and he had already raised more than $7,000.
Garret decided to make an appointment with the Sports Injury Clinic at Pomona Valley Hospital Medical Center's (PVHMC) Sports Medicine Center (SMC), which offers free athletic injury screens by a Sports Medicine Physician and includes injury diagnosis, recommendations for care, as well as x-ray and on-site PT consultation, if needed.
"I've heard of the Sports Injury Clinic before, but was skeptical that any kind of physical therapy could help me," says Garret. "I also knew that if I wasn't able to ride, I would have felt like I let my donors down, and that the $7,205 that I had already raised for this ride would not carry the same significance. Making that appointment was the best choice I could have made."
During his appointment, Duane Styles, MD, sports medicine specialist, manipulated his leg in a way to pinpoint where the pain was coming from. Within a few minutes, Garret was diagnosed with a hamstring strain. Dr. Styles then introduced him to his soon-to-be physical therapist, Sapan Thakur, PT, to discuss his upcoming plan of care.
"Garret's injury stemmed from overuse and a dominance of using his hamstring muscles over the other muscles in his lower body," says Sapan. "Our goals were to first eliminate his pain and soreness, and once we did that, we would focus on strengthening and injury prevention."
Beginning on March 3, 2018, Garret and Sapan worked together once a week for three months to strengthen the muscles surrounding his hamstring.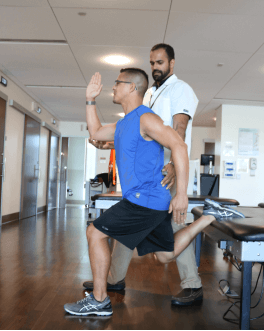 "We incorporated lots of band work into his therapy program to help him strengthen his gluteus muscles," adds Sapan. "We started with standard Therabands and quickly graduated to the Theraband CLX, which allowed Garret to create complex movements involving his upper and lower body simultaneously, which most closely resembled his typical workout regimes."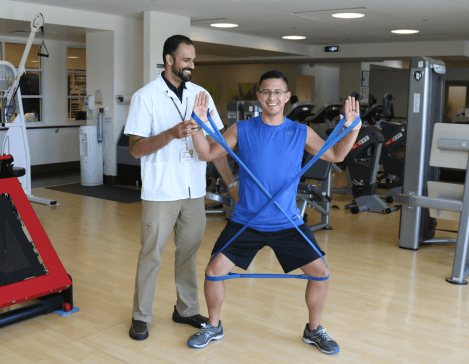 Garret excelled in his program, and as he began to see results, his skepticism quickly faded and incentivized him to work harder. Soon, he was able to do short training rides over the weekends, and, three months later (one week before his ALC ride), he was given the "ok" to get back on his bike.
On June 3, 2018, Garret began his 552-mile journey from San Francisco to Los Angeles. In total, his team raised nearly $280,000, just a small part of the $16.5 million total raised by all of the participants.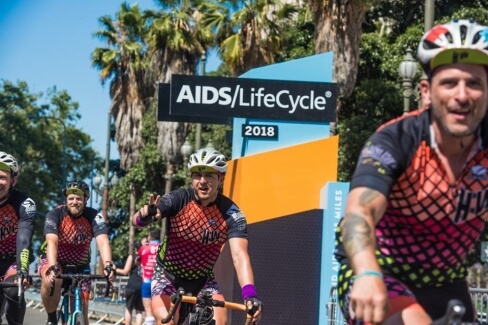 "I just want to say thank you to everyone that took part in my care, and to PVHMC for offering the free Sports Injury Clinic," adds Garret. "I was truly taken aback at how effective my recovery program was. Sapan was very thorough and ultimately gave me the tools to get back on the road to recovery and get me ready for my ride."
The Sports Injury Clinic is a free clinic available to any athlete with a sports injury. To learn more about the Sports Injury Clinic at Pomona Valley Hospital Medical Center, please visit: https://www.pvhmc.org/Services/Sports-Medicine-Center/Screenings-Evaluations