Down on the Farm for Wellness
Category: News
Posted On:
Written By:

PVHMC - Admin
Pomona Valley Hospital Medical Center in June hosted the annual Wellness Market in partnership with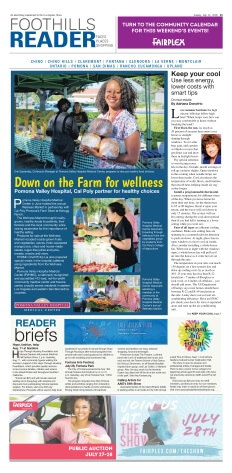 Cal Poly Pomona's Farm Store at Kellogg Ranch.
The Wellness Market brought locally grown, healthy foods to patients, their families and the local community while raising awareness for the importance of healthy eating.
Products for sale at the Wellness Market included locally-grown fruits and vegetables, spices, fresh-squeezed orange juice, chips and house-made salsas, sugar-free jellies and jams, breads, snacks and more.
PVHMC Chef Phillip Lai also prepared special meals in the hospital cafeteria using ingredients from the Wellness Market.
Pomona Valley Hospital Medical Center (PVHMC), a nationally recognized and accredited 412-bed, not-for-profit community medical center and trauma center, proudly serves residents in eastern Los Angeles and western San Bernardino
counties.