President's Circle Award - Honoring Pomona's Finest
Category: Blog
Posted On:
Written By:

PVHMC - Admin
Each year, Pomona Valley Hospital Medical Center (PVHMC) recognizes Associates who have truly lived out our organization's C.H.A.N.G.E. Values through their exemplary actions. Our C.H.A.N.G.E. Values, which stand for Customer Satisfaction, Honor & Respect, Accountability, New Ideas, Growing Continuously, and Excellence, are values that each of our Associates commit to implementing in their actions and attitudes at PVHMC. We are proud to honor and share each of their stories.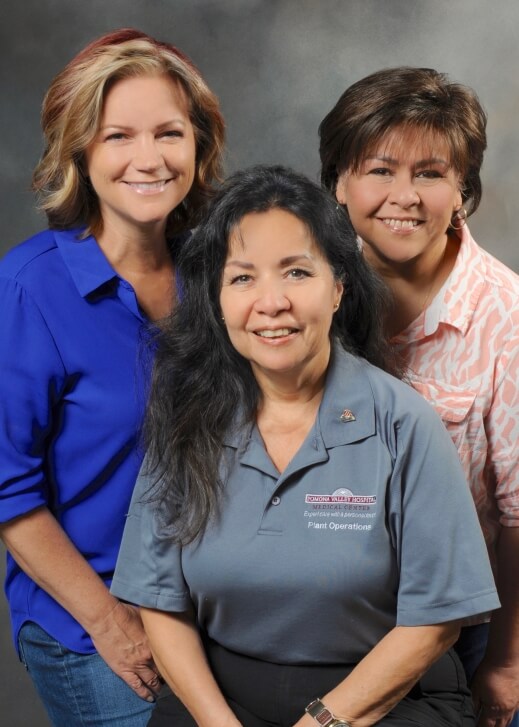 This is the oath spoken with purpose and value by each of our nation's law enforcement officers. Our local police officers risk their lives every day to provide us safety and justice. For this reason, the death of an officer weighs heavily on a community. It is with sorrowful hearts that we remember one of our own City's fallen police officers – Officer Greggory Casillas, who died in the line of duty in March of 2018.
He and his partner were brought here to our hospital after a shooting, and try and try as our trauma team did; he was unable to be saved. Many of you may have seen and mourned as officers and community members from across the county, state and nation gathered in our city to honor his legacy, including the entire Pomona Police Department.
Here in the hospital, three of our own Associates, Nancy Jennings, Bernadette Ortiz, and Olivia Green, were finding their own way to honor him. Nancy Jennings, a Labor and Delivery nurse, knew there had to be something she could do to bring the hospital and community together in light of this terrible tragedy.
The night after the shooting occurred, she and Bernadette Ortiz, a Labor and Delivery surgical tech, purchased black and blue ribbons to construct remembrance pins. Over the next couple of days, on their breaks and at home, both of these women delicately hand-cut and pinned together more than 300 ribbons for Associates to wear in memory of Officer Casillas.
Elsewhere in the hospital, news of the pins was spreading. Bernadette's husband, Richard Ortiz, mentioned the pins to fellow Plant Operations Associate, Olivia Green, who was known for her crafting abilities. Olivia loved the idea so much, that just a few days later she had made and distributed another 800 pins!
In this time of community loss and sorrow, the ribbons provided our Associates an opportunity to express their grief and solidarity. Even now, if you walk the halls of our hospital, you can still see black and blue ribbons pinned to badges, lanyards or jackets in remembrance of the life of one of Pomona's finest.
Nancy and Bernadette say of their project, "Our hearts went out to our Associates, the family, the community. We knew this was the best thing we could do silently." Olivia similarly described her efforts as an honor – "it was just a way for me to help our Associates share the message that PVHMC is always here for the community."
These three Associates had our hospital's CHANGE Values (Customer Satisfaction, Honor & Respect, Accountability, New Ideas, Growing Continuously and Excellence) and love for our City of Pomona in their hearts when they generated this New Idea to Honor and Respect a fallen member of our local law enforcement. Words cannot begin to describe the healing and unification they helped to forge within our solemn walls.