Pomona Valley Hospital Medical Center Announces New Emergency Department Provider on Arrival Initiative
Category: News
Posted On:
Written By:

PVHMC - Admin
Building on our commitment to provide the highest quality care and an excellent patient experience to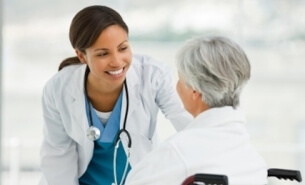 the community we serve, Pomona Valley Hospital Medical Center is pleased to announce 24-hour Provider on Arrival at the triage desk in the Emergency Department (ED). This means that when patients now arrive at the ED, they have access to a certified Emergency Department physician, who can quickly assess the patient for the level of care required and immediacy of need for treatment.
PVHMC is one of the first in the region to staff ED arrival with emergency physicians exclusively. According to Dr. James Kim, ED Medical Director, "Provider on Arrival improves the Emergency Department patient flow, expedites treatment and improves patient satisfaction."
Since the September launch of Provider on Arrival, patients requiring an immediate bed have experienced shorter wait times and prompt care once they've been moved to a bed because the physician has already placed the treatment and medication orders during the rapid medical exam at triage. And the time from arrival to discharge has reduced for all patients.