Three Times the Fun-Mom Gives Birth to Healthy Triplets at PVHMC
Category: Blog
Posted On:
Written By:

PVHMC - Admin
With three daughters, ages 15, 11 and 9, Elizabeth Martinez-Jimenez, 34, and her husband Mario Jimenez received the surprise of their lives when they discovered Elizabeth was pregnant again. But they got an even bigger shock when they went for their first ultrasound and found out they were having triplets.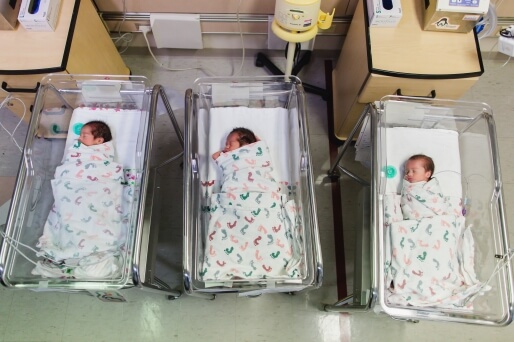 "It was overwhelming and there was a lot of emotion," Elizabeth said. "My husband was trying to comfort me but he looked like he couldn't breathe."
Triplets are rare. According to the Centers for Disease Control and Prevention, there were 3,755 triplet births in the United States in 2016 (the most recent year for which data is available). Spontaneous triplets like Elizabeth's—those conceived without the help of fertility treatments—are even more unusual.
Twin and triplet pregnancies are always considered high-risk because they place greater demands on a mother's body and increase the chance of complications like high blood pressure, gestational diabetes, and premature birth. The risks are even higher for women like Elizabeth who are in their mid-thirties (or older). But Elizabeth knew she was in good hands at Pomona Valley Hospital Medical Center (PVHMC), which specializes in high-risk pregnancies, and with OB/GYN specialist Duong Phung, MD, who delivered her two nephews.
Toward the end of her pregnancy, Elizabeth was diagnosed with gestational diabetes. She was immediately referred to PVHMC's Sweet Success diabetes education program (see page 7) where she learned how to keep herself and her unborn babies healthy.
"I was freaking out and waiting to hear horrible news," Elizabeth said after her diabetes diagnosis. "But then I went to the first Sweet Success class and felt better. I was still afraid of the dangers but the nurse broke down all the information so that it seemed do-able. And any time I called with questions, they answered or called me right back. The program really helped me."
On May 12, 2018, at 34 weeks and two days, Elizabeth delivered three healthy boys by C-section; Mario, Felix and Simon. The fraternal triplets were a good weight – all approximately four pounds – but still too small to go home right away. They were placed in PVHMC's Neonatal Intensive Care Unit (NICU) to gain weight. Mario stayed five days, Simon 11 and Felix 12.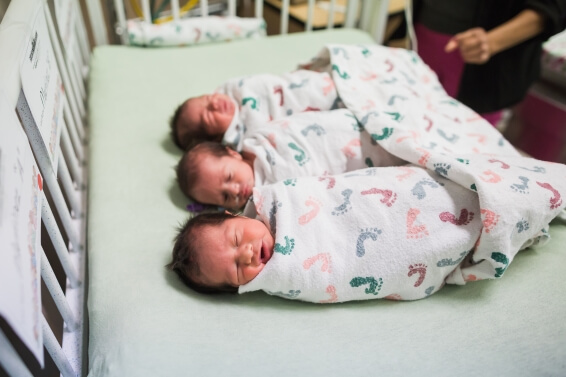 "It was really hard to leave them," Elizabeth said. "But I was so relieved by the [NicView] cameras. They reduced a lot of my anxiety."
The innovative NicView system lets parents watch their infants in the NICU in real-time via a bedside camera that's accessible by laptop, smartphone or tablet through a secure online portal. Parents can also grant access to friends and family members around the world.
"We had so many family members using it," Elizabeth said. "It was comforting. Even when my husband and I couldn't watch the boys, we knew that someone else in our family probably was."
The triplets are home now and thriving. The family is excited to have three boys in addition to their three girls.
"I had the best experience at Pomona Valley Hospital," Elizabeth said. "I was actually waiting for something to go wrong during my pregnancy and it never did. Every single nurse was amazing. They would call me and remind me about my appointments and they did everything to help me. The staff at the hospital was really good."