Pomona Valley Hospital Medical Center dedicates custom mural in memory of The late Donald R. Descombes
Category: News
Posted On:
Written By:

PVHMC - Admin
Pomona Valley Hospital Medical Center (PVHMC) recently dedicated the custom mural, "Gift of the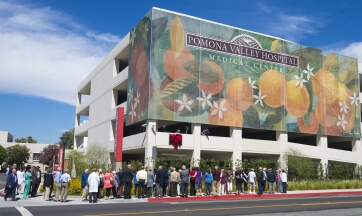 Valley," that adorns the southeast side of the hospital's new parking structure in memory of the late Donald R. DesCombes, a longtime PVHMC Board member. The artwork and installation were a gift to the PVHMC Foundation from Elizabeth "Betty" DesCombes and her children, in honor of her husband.
"We are deeply grateful to Betty and her children for this beautiful gift honoring Donald for the many years he devoted to serving our Hospital," said Richard E. Yochum, President and CEO. "This mural complements the work of the City of Pomona's Cultural Arts Commission to bring more public art to the community. Patients, their families, Hospital visitors and all who pass by can enjoy this artwork for many years to come."
During a dedication event Betty DesCombes, unveiled the memorial plaque, along with PVHMC Associates, artist Tony Sheets and other supporters. The mural depicts large golden oranges, blossoms and leaves, inspired by the citrus industry that defines the origins of this region of Los Angeles County. The large-scale piece measures 30 feet tall by 83 feet wide.