Forever Footprints Partners with PVHMC to Give Hope to Families Experiencing Pregnancy and Infant Loss
Category: Blog
Posted On:
Written By:

PVHMC - Admin
In late November, Pomona Valley Hospital Medical Center (PVHMC)'s Emergency Department (ED) received its first donation from Forever Footprints, a non-profit organization based in Chino Hills. This donation included memory boxes and sibling support backpacks to support families through this difficult time in their lives.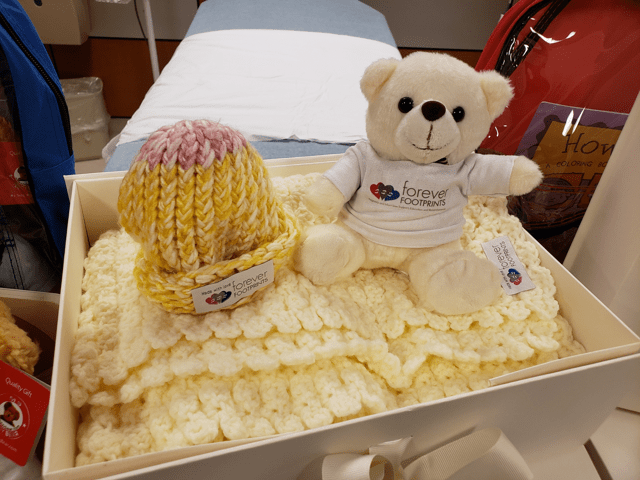 Jolene Galvez, RN, a Nurse in the Hospital's ED, began coordinating this donation in October after hearing about Forever Footprints. The organization provides support, education and remembrance for families who have experienced a pregnancy loss or infant loss. In particular, the organization donates memory boxes to parents containing support information, a memorial blanket, teddy bear, hat and inkpad so parents can take a footprint of the baby home as a treasured memory. The sibling pack contains a teddy bear, special grief support books and therapeutic coloring materials.
"Our staff is actively working to advance the care women receive in our Emergency Department following a loss," says Jolene Galvez, RN. "We are thankful to Forever Footprints for this generous donation and to have continuous support for the families in our Emergency Department who suffer from pregnancy or infant loss."
Approximately 10-25% of all clinically-recognized pregnancies end in miscarriage, according to the American Pregnancy Association. There is a huge need in hospitals, emergency rooms and doctor's offices across the United States to provide more support and compassion to women and families that have suffered a devastating miscarriage or pregnancy loss.
"We at Forever Footprints are honored to be able to partner with Pomona Valley Hospital Medical Center's Emergency Department to extend the arms of heartfelt love and compassion towards individuals and families who unexpectedly lose a baby through infant loss, stillbirth, or miscarriage," says Sarah Delgado, LMFT, DMFT, of Forever Footprints.
To learn more about Forever Footprints, visit http://www.foreverfootprints.org/