The Heart of the Heart Surgery Program
Category: Blog
Posted On:
Written By:

PVHMC - Admin
The days are full for Kathy Soderlund, BSN, RN, CCRN, Cardiac Coordinator for all heart surgeries at PVHMC. Once a patient is scheduled for surgery, Kathy meets with the patient and their family at the Pre-Admitting office or Cardiac Catheterization Lab to provide education on what to expect before, during and after surgery.
Kathy is a warm and caring person who connects easily with everyone she meets. Her calm, confident manner eases the stress and fear that her patients and their loved ones often feel when undergoing heart surgery.
Before surgery, Kathy answers her patient's questions and relieves their anxiety. During surgery, she gives progress updates to family in the ICU waiting room with a bright smile that provides comfort that all is well. She also tells the family how long it will take for the patient to be settled into the Cardiovascular Intensive Care Unit (CVICU) after surgery and when they'll be able to go in.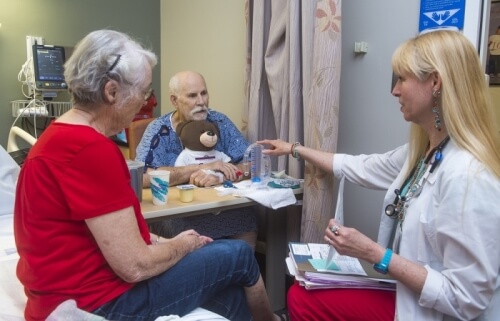 While her patients recover in the Hospital, Kathy makes daily rounds to check on them, answering questions and providing more education on what to expect next.
When patients are ready for discharge, Kathy coordinates the transition from Hospital to home. She provides detailed discharge instructions, ensures follow-up appointments are scheduled, and provides her phone number so the patient or family can get answers quickly if any concerns arise once they're home.
Healthgrades has ranked PVHMC among the top 10 percent of Hospitals in the nation in cardiac surgery. Kathy and the work she does are a big part of that success. Thank you, Kathy, for the outstanding care you give daily and for all the lives and hearts that you help heal!