U.S. News & World Report Names Pomona Valley Hospital Medical Center a High Performing Hospital for Aortic Valve Surgery and Heart Failure
Category: News
Posted On:
Written By:

PVHMC - Admin
Pomona Valley Hospital Medical Center has been recognized as a High Performing Hospital for 2019-20 by U.S. News & World Report.
The annual Procedures & Conditions ratings, now in their 5th year, are designed to assist patients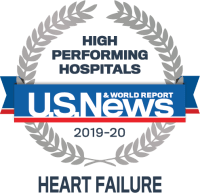 and their doctors in making informed decisions about where to receive care for common conditions and elective procedures. These ratings extend the U.S. News mission of providing consumers with patient decision support beyond the Best Hospitals rankings, which are geared toward complex specialty care.
Pomona Valley Hospital Medical Center earned "High Performing" ratings for Aortic Valve Surgery and Heart Failure, in recognition of care that was significantly better than the national average, as measured by factors such as patient outcomes. "High Performing" is the highest rating U.S. News awards for that type of care.
"We are filled with gratitude to receive recognition for the endless hours of care that our team devotes to create highly personalized care for everyone that visits PVHMC," said President and CEO Richard E. Yochum. "We hope that in receiving these accolades from the U.S. News & World Report Pomona Valley residents can be assured that premium health care is just minutes from home."
For the 2019-20 ratings, U.S. News evaluated more than 4,500 medical centers nationwide in nine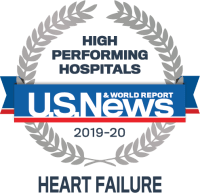 procedures and conditions. Fewer than a third of all hospitals received any high-performing rating, and only 57 earned this rating in all nine Procedures & Conditions. The state and metro area rankings recognize hospitals that received high performing ratings across multiple areas of care.
"For 30 years, U.S. News has strived to make hospital quality more transparent to healthcare consumers nationwide," said Ben Harder, managing editor and chief of health analysis at U.S. News. "By providing the most comprehensive data available on nearly every hospital across the United States, we give patients, families and physicians information to support their search for the best care across a range of procedures, conditions and specialties."
The U.S. News Procedures & Conditions methodology is based entirely on objective measures of quality such as risk-adjusted outcome rates, volume, quality of nursing and other care-related indicators.
The Procedures & Conditions ratings were produced by U.S. News analysts.
For more information about the 2019-20 rankings and ratings, please visit the FAQ. The rankings will be published in the U.S. News "Best Hospitals 2020" guidebook (ISBN 9781931469937), available for pre-order now from the U.S. News Online Store and for purchase at other bookstores in mid-September.
For more information, visit Best Hospitals and use #BestHospitals on Facebook and Twitter.