Pomona Valley Hospital Medical Center Partners With Local Organizations To Host Sidewalk CPR Day For Claremont Residents
Category: News
Posted On:
Written By:

PVHMC - Admin
Pomona Valley Hospital Medical Center (PVHMC) recently partnered with the Los Angeles County Fire Department, Western University of Health Sciences and Claremont Chamber of Commerce to provide free sidewalk (hands-only) CPR training to more than 100 community members.
Guests of all ages participated in hands-only CPR training as well as Automatic External Defibrillator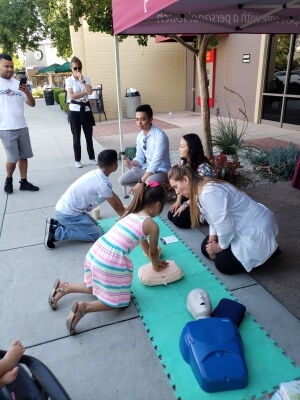 (AED) training during National CPR Week. The event was led by PVHMC's director of cardiovascular services, Debbie Keasler, MSN, RN; chest pain coordinator, Tammy Freehling, RN, CCRN; and structural heart program coordinator, Cathy Gilbertson, RN, CCRN; Participants learned life-saving techniques to help keep victims of cardiac arrest alive until paramedics arrive, with the Los Angeles Fire Department aiming to train 100,000 Los Angeles County residents alone.
CPR is a life-saving skill that is vital for people to learn, especially because 70% of all cardiac and breathing emergencies occur at home. The American Heart Association reports that effective bystander CPR provided immediately after sudden cardiac arrest can double or triple a victim's chance of survival. Sadly, only 32% of cardiac arrest victims receive CPR from a bystander. CPR training could be the key to saving a life and it only takes ten minutes to learn. PVHMC physicians encourage community members to learn and educate their families on the best practices of CPR and how to effectively apply their new skills to real life.