Pomona Valley Hospital Medical Center Named Top 10% in the Nation for Patient Safety Excellence for Two Consecutive Years
Pomona Valley Hospital Medical Center (PVHMC) is proud to announce today that it has been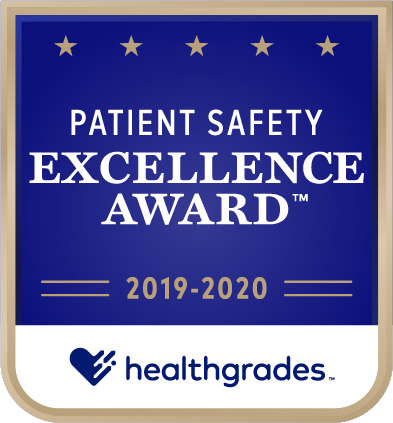 named a recipient of the Healthgrades 2020 Patient Safety Excellence AwardTM for the 2nd consecutive year (2019-2020). This distinction places PVHMC among the top 10% of all hospitals in the nation evaluated by Healthgrades, the leading resource that connects consumers, physicians and health systems. Amidst the COVID-19 pandemic, patient safety has become the focal point for consumer decision-making in healthcare.
"This recognition demonstrates that our top priority is safe, high-quality patient and family-centric care," said Richard E. Yochum, FACHE, President and CEO. "During the COVID-19 pandemic, some people have delayed getting emergency care for heart attack, stroke and other serious conditions out of fear of contracting COVID-19 in a healthcare setting. This is resulting in patients being much more ill. We want to assure the community that it is safe to get care at PVHMC. Do not delay the care you need."
Throughout the pandemic, PVHMC has implemented a number of enhanced safety precautions to protect patients and staff from COVID-19, including:
Following all guidelines from the Centers for Disease Control and Prevention and Los Angeles County Department of Public Health
Self-monitoring Associates' and Physicians' health to ensure they are symptom-free and able to work
Masking Associates, Physicians and patients
Adhering to strict hand-hygiene measures
Observing physical distancing in waiting and clinical areas
Using appropriate personal protective equipment
Enhancing already rigorous infection prevention and disinfection processes
Limiting visitors
Healthgrades found that patients treated in hospitals receiving the Patient Safety Excellence Award were, on average*:
48.3% less likely to experience a collapsed lung due to a procedure or surgery in or around the chest, than patients treated at non-recipient hospitals.
54.4% less likely to experience a hip fracture following surgery, than patients treated at non-recipient hospitals.
66.8% less likely to experience pressure sores or bed sores acquired in the hospital, than patients treated at non-recipient hospitals.
63% less likely to experience catheter-related bloodstream infections acquired at the hospital, than patients treated at non- recipient hospitals.
From 2016 through 2018, there were 198,185 potentially preventable patient safety events among Medicare patients in U.S. hospitals. In addition, if all hospitals in the country performed at the level of award recipients for each of the 13 patient safety indicators, 110,864 patient safety events could have been avoided. *
During the study period (2016 through 2018), Healthgrades 2020 Patient Safety Excellence Award recipients demonstrated excellent performance in safeguarding patients, as measured by objective outcomes—risk-adjusted patient safety indicator (PSI) rates—for 13 PSIs defined by the Agency for Healthcare Research and Quality (AHRQ). A 14th PSI included in the evaluation is Foreign Objects Left in Body During a Surgery or Procedure which is a "never" event and does not have an expected rate.
"Consumers might not know that information around patient safety is readily available and should be considered when researching healthcare options," said Brad Bowman, MD, Chief Medical Officer, Healthgrades. "We commend recipients of the 2020 Patient Safety Excellence Award for their dedication to providing excellent care for their patients."
Learn more about Healthgrades' hospital quality methodologies.