Resilience and Hope – Delivering Twins During a Pandemic
Category: Blog
Posted On:
When Chino residents Allison and Mark Keck discovered they were having twins in the middle of a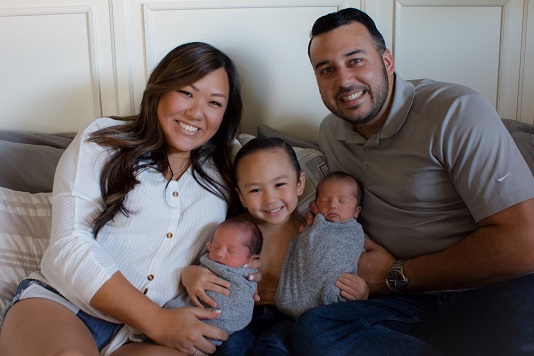 global health pandemic, they didn't know what to expect.
The Keck's journey to have another child had so far been filled both with moments of grief and absolute joy. Just days before finding out she was pregnant, Allison lost her father-in-law, whom she had grown close to, especially after he had supported them when she suffered a pregnancy loss in the summer of 2019.
"We felt like this pregnancy was a blessing in a very dark and painful time," said Allison. "He always wanted us to have more than just two kids, so we felt like this was his way of showing he was here with us."
Not long after the pregnancy discovery, the Keck's found out during an ultrasound appointment that their joy was about to double – they were having twin boys!
"I was in complete and total shock," Allison said. "It took me a few weeks to wrap my head around it!"
As she progressed in her pregnancy, Allison was soon diagnosed with gestational diabetes, a high-risk type of diabetes that causes high blood sugar in pregnant women. It was another concern in her already anxious pregnancy.
"Being high-risk with twins during this pandemic was scary enough," said Allison. "But going to appointments alone, worrying about getting sick and bringing babies into this world at a time like this was even more stressful."
Despite her fears, Allison notes that the stay at home order was, in some ways, a beneficial experience, as it allowed her more time to bond with and prepare her three-year-old son, Mikah, for the arrival of his two baby brothers.
As her due date approached, Allison and Mark were excited and relieved to hear from her obstetrician and gynecologist, Nicole Oliver, MD, that both twins were positioned with their heads down, a sign that she may have the opportunity to deliver her babies vaginally instead of by Cesarean-section.
"Dr. Oliver and I had the conversation early on that I might have the option for a vaginal delivery," said Allison. "I had my first son vaginally, so I wanted to try to deliver this way if all the stars aligned! For some reason I just had a lot of faith and I felt like I should try if I had the opportunity."
Fortunately, the twins stayed in the head-down position until, finally, the day came for Allison to be induced. She and Mark said a brief goodbye to Mikah and headed to Pomona Valley Hospital Medical Center's Women's Center to prepare for the arrival of the twins.
"I didn't have any concerns about going to the hospital during this pandemic," said Allison. "I knew I was in great hands, even with the high risk of having twins, and I knew the hospital was equipped to handle anything and everything!"
"My birth experience was incredible," said Allison. "I checked in at 11:00 am and was admitted right away. I got tested for COVID-19 and the results came back within the hour - being tested right off the bat made me feel more comfortable, just knowing how cautious everyone was being helped me with any anxieties I had."
"They then started my IV, broke my water, and stared me on Pitocin all by 2:00 pm," she added. "Finally, by around 8:00 pm I was ready to start pushing! They wheeled me down to the OR and I was surrounded by so much comfort and care. Each nurse made me feel like I was strong, and I could get through this – and I did!"
On Sunday, May 17th, 2020, Twin A (6.5 lbs. & 18 in.) was born at 8:27 pm and twin B (5.4 lbs. & 17 in.) was born at 8:33 pm. Allison and Mark named their boys Mitchell Dirk and Maverick David, after her late father-in-law, David Richard Keck, "Dirk."
"The whole experience made me feel safe because of how honest I felt everyone was with me," said Allison. "Nothing was sugar-coated, and everyone took precautions. Just knowing that I was being admitted and would be monitored the entire time until the boys got here was the best peace of mind!"
On May 19th, Allison and Mark were able to bring their beautiful, healthy bundles of joy home. Mikah was waiting on the couch patiently to meet his brothers, with tears welling up in his eyes from the excitement of getting to hold them.
"I want to personally thank Laurie Hummel, Dr. Oliver, Dr. Rodriguez and each and every nurse that helped make our dreams come true," said Allison. "This entire pregnancy and delivery went so smooth because of these incredible people and we could not be more thankful! PVHMC is hands down the BEST! We are so thankful and blessed!"