Mask Up for Labor Day Gatherings
Category: Blog
Posted On:
Rates of COVID-19 cases and hospitalization have been declining in recent weeks across the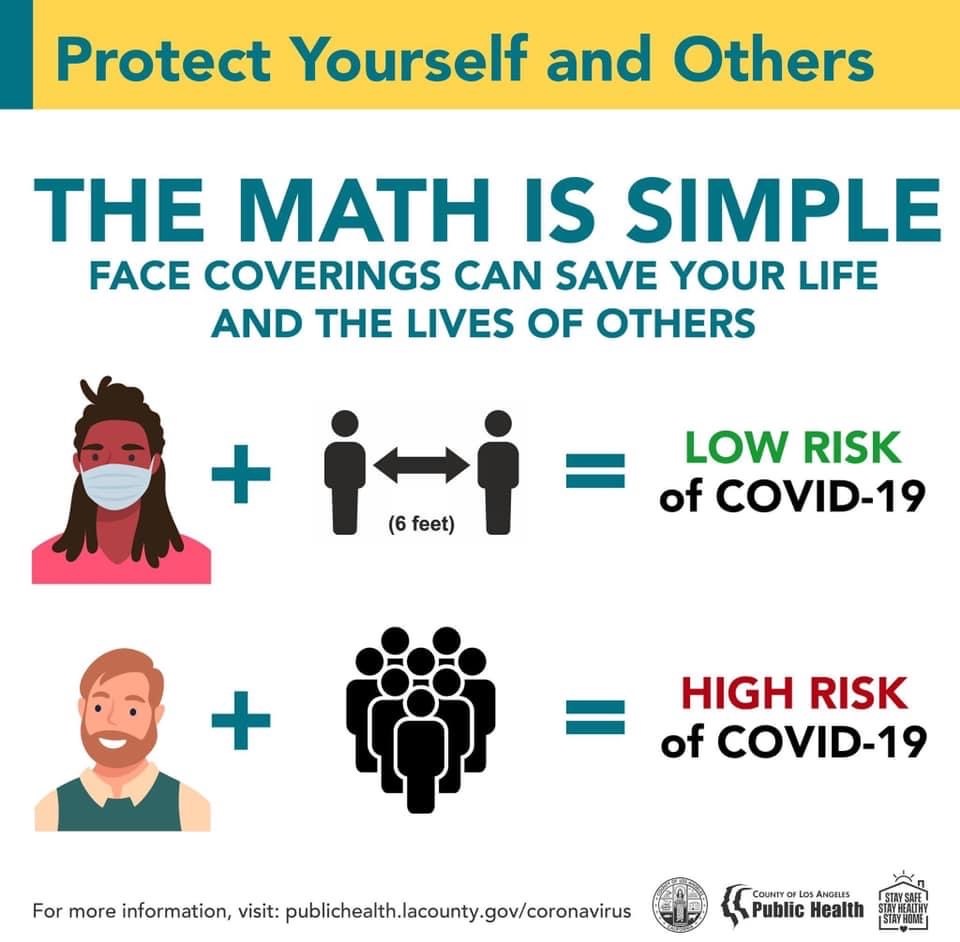 Southern California region, but that doesn't mean it's time to put away the masks and hand sanitizer. Until there is a vaccine, we must remain vigilant to protect our community from a resurgence of COVID-19.
In the weeks following holidays during the pandemic, such as Mother's Day, Memorial Day, Father's Day and the Fourth of July, cases of COVID-19 skyrocketed because of an increase in large gatherings of people who were unmasked and not social distancing. With cases spiking, there was also an increase in hospitalizations and stress on our healthcare system with intensive care units reaching capacity. And we've continued to see the loss of lives with nearly 6,000 loved ones losing their battles with COVID-19 in Los Angeles County alone.
With Labor Day weekend upon us – it's tempting to gather for end-of-summer BBQs and pool parties. The safest option for you and your family is to avoid gathering with anyone outside of your household. However, if you do plan to spend time with people who don't live in your household, Pomona Valley Hospital Medical Center urges you to celebrate safely, so together, we can continue to slow the spread of COVID-19. Daniel Gluckstein, MD, Medical Director of Infectious Disease, shares these tips – whether you're celebrating in the community or at home:
Limit social gatherings to less than 10 people.
Hold the gathering in a large outdoor space, such as the backyard or park, rather than inside a confined area – do not gather inside a home.
Avoid crowded places where it's difficult to social distance. If at a park or the beach, ensure your party is more than six feet away from other groups.
Ensure guests wear a mask whenever they are not eating or drinking a beverage and enforce mask wearing. Keep guests at least six feet apart when not wearing masks. Have disposable masks available for those who arrive without one.
Request that your guests bring their own food and beverages to prevent touching the same food service utensils and containers.
Have hand sanitizer readily available.
If guests are permitted to go inside a home to use the bathroom, have disposable paper towels available for drying hands after hand washing, rather than a cloth hand towel.
Ask guests to stay home if they are sick or think they have been exposed to someone with COVID-19 in the past 14 days.
As we head into the fall season, please take all the necessary precautions to protect others and yourself to keep slowing the spread of COVID-19.