A Thanksgiving Message
Category: News
Posted On:
A Thanksgiving Message from the President and CEO
As I reflect on the past year, I find myself filled with gratitude for our Associates, Physicians, Volunteers, patients, and donors and I have so much hope for the future. I am looking forward to gathering with loved ones this Thanksgiving and hope that you too will be surrounded by those closest to you.
We are indebted to our valued Associates and Physicians who have persevered through several COVID-19 surges, yet never lost sight of delivering the highest quality care to all who come through our doors. They kept on bringing beautiful babies into the world, delivering life-saving heart and vascular care, providing advanced treatment for cancer and offering round-the-clock emergency and trauma care, as well as caring for patients with COVID-19. Our Associates and Physicians are simply the best – and we are so fortunate to attract top tier talent that earns us numerous national awards and accolades for quality care.
On that note, we celebrate our nurses for recently earning Magnet recognition – the highest honor in the United States for nursing excellence. Research shows that Magnet-recognized organizations demonstrate better patient outcomes. Naturally, we have always believed that we have the highest-quality and most professional nurses for our patients. But, receiving recognition from the American Nurses Credentialing Center for the quality of our nurses amplifies our belief in their care, professionalism and dedication.
We appreciate our faithful donors so much. In the absence of in-person fundraising events, you have continued to show up for our Hospital time and time again. Your generous support has allowed us to continue to invest in state-of-the-art technology and new treatments to provide our patients with advanced care close to home.
What a joy it was to welcome our Volunteers back after many months of stay-at-home orders. We are beholden to our Volunteers who give of their time to serve our patients and their families. You were dearly missed and we love seeing your smiling faces again.
We thank our patients for trusting Pomona Valley Hospital Medical Center with all your health care needs. It's a privilege to partner with you and we are proud to be your provider of choice.
Wishing you and your family a blessed Thanksgiving.
With gratitude,
Richard E. Yochum, FACHE
President/CEO
* * * * * * * * * * * * * *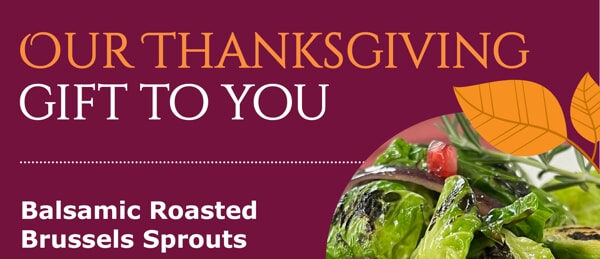 Our Thanksgiving gift to you – a recipe for balsamic roasted Brussels sprouts curated by LaToya Lee, our dietetic intern from Cal Poly Pomona. Not only do Brussels sprouts taste great when roasted, but they are also full of fiber, calcium, potassium, folate, vitamin C, vitamin K, and antioxidants that help fight cancer.
Balsamic Roasted Brussels Sprouts
Servings: 6
Ingredients
1 (16 oz.) package of fresh Brussels sprouts, halved
1 small red onion, thinly sliced
5 teaspoons of olive oil, divided
½ teaspoon of salt
¼ teaspoon of black pepper
1 shallot, chopped
¼ cup balsamic vinegar
1 tablespoon fresh rosemary chopped
Directions
Preheat oven to 425 degrees. Lightly grease a baking sheet with olive oil.
Combine Brussel sprouts and onion together in a bowl; add 3 teaspoons of olive oil, salt and pepper and gently toss to coat. Spread the sprouts mixture onto prepared baking sheet.
Bake in preheated oven until sprouts and onion are tender and caramelized, around 25-30 minutes. Remove from oven and allow to cool.
In a small skillet over medium high heat, heat remaining olive oil, sauté shallot until tender, about 5 minutes. Add balsamic vinegar and cook until slightly reduced and thickened, about 5 minutes. Stir rosemary into glaze and pour over sprouts mixture. Serve immediately.