Pomona Valley Hospital Medical Center Receives National Recognition for Exceptional Heart Failure and Stroke Care Programs
Category: News
Posted On:
Pomona Valley Hospital Medical Center (PVHMC) has received two national American Heart Association (AHA) Get with the Guidelines awards including:
Get With The Guidelines®-Heart Failure Gold Plus with Target: Type 2 Diabetes Honor Roll
Get With The Guidelines®-Stroke Gold Plus with Target: Stroke Honor Roll Elite Plus, 6th year in a row
The awards demonstrate PVHMC's commitment to following up-to-date, research-based guidelines for the treatment of heart disease and stroke, ultimately leading to more lives saved, shorter recovery times and fewer readmissions to the hospital.
Every 40 seconds, someone in the U.S. has a stroke or heart attack, and heart disease and stroke are the No. 1 and No. 5 causes of death in the U.S., respectively. Studies show patients can recover better when providers consistently follow treatment guidelines.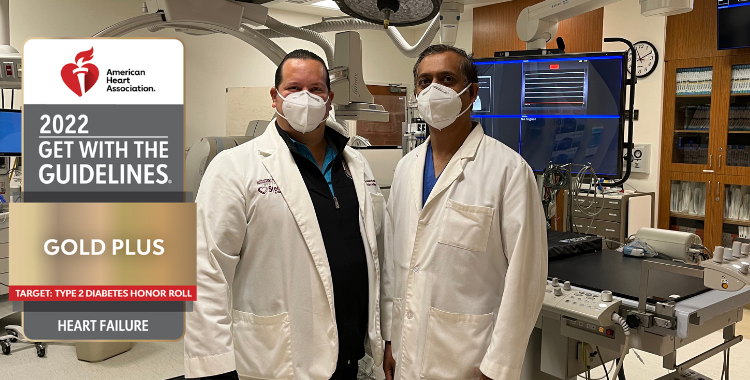 Get With The Guidelines puts the expertise of the AHA and American Stroke Association to work for hospitals nationwide, helping ensure patient care is aligned with the latest evidence- and research-based guidelines. As a participant in Get With The Guidelines programs, PVHMC qualified for the award by demonstrating how their organization has committed to improving quality care.
The hospital earned the awards by meeting specific quality achievement measures for the diagnosis and treatment of heart failure and stroke patients at a set level for a designated period. These measures include evaluation of the proper use of medications and aggressive risk-reduction therapies aligned with the most up-to-date, evidence-based guidelines. Before discharge, patients should also receive education on managing their conditions and overall health. Patients get a follow-up visit scheduled, as well as other care transition interventions. To qualify for the Type 2 Diabetes Honor Roll award, the hospital ensures patients with type 2 diabetes receive the most up-to-date, evidence-based care when hospitalized with heart failure.
"Pomona Valley Hospital Medical Center's mission is to ensure more people in the Pomona Valley and our surrounding communities experience longer, healthier lives," said Richard E. Yochum, FACHE, President/CEO of PVHMC. "The Get With The Guidelines recognitions are a testament to our commitment to following best practices and treatment guidelines to improve the outcomes of our patients who experience a heart attack, stroke or other cardiovascular event."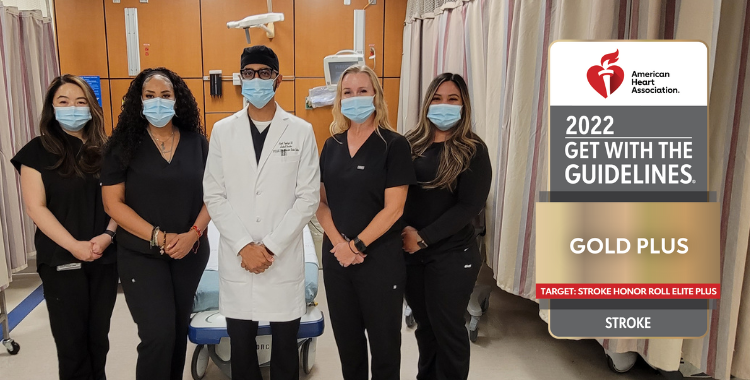 As a designated Comprehensive Stroke Center, Chest Pain Center and STEMI Receiving Center, PVHMC has also met specific scientific guidelines featuring a comprehensive system for rapid diagnosis and treatment of stroke and heart failure patients admitted to the emergency department.
"We are pleased to recognize Pomona Valley Hospital Medical Center for its commitment to caring for those in their community who need cardiovascular care," said John Warner, M.D., FAHA, past president of the American Heart Association and executive vice president for health system affairs at UT Southwestern Medical Center, in Dallas. "Hospitals that follow the American Heart Association's quality improvement protocols often see improved patient outcomes, fewer readmissions and lower mortality rates – a win for health care systems, families and communities."
Learn more about the nationally-recognized cardiovascular services offered at PVHMC here.