Colorectal Cancer Prevention – Don't Put Off Your Colonoscopy
Category: Blog
Posted On:
Written By:

Behnam Ebrahimi, MD, Medical Oncologist and Hematologist at Pomona Valley Hospital Medical Center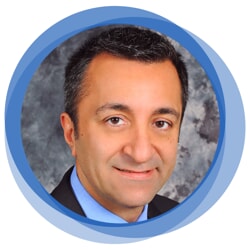 March is National Colorectal Cancer Awareness Month. Healthcare professionals across the nation are reminding you to take steps to reduce your risk of colorectal cancer, a form of cancer that develops in your colon or rectum. You can lower your risk by eating a diet high in fruits and vegetables, exercising more, not smoking and cutting your alcohol intake. Most importantly, in the absence of a family history of colorectal cancer, start regular colonoscopy screenings if you are at least 45 years of age.
We know that the key to colorectal cancer prevention is screening – and a colonoscopy is the gold standard, unless you have a genetic predisposition to the disease. Since a polyp in the colon or rectum can take as long as 10 years to develop, early detection and treatment is critical to ensuring patients have the best health care outcomes.
Unfortunately, many people consider their risk of colorectal cancer to be low because they have no family history, are active, generally healthy or may feel embarrassed about getting a colonoscopy. The truth is, anyone can get colorectal cancer and only 10% of diagnoses have a hereditary link. A colonoscopy can save your life, so don't let fear or doubt stop you from this vital screening.
The Colorectal Cancer Alliance reports that since the onset of the COVID-19 pandemic, colorectal cancer screenings dropped by 90%. Subsequently, this has contributed to a rise in patients diagnosed with more advanced stages of colorectal cancer. Data from the Robert & Beverly Lewis Family Cancer Care Center at Pomona Valley Hospital Medical Center confirms this trend in our own community – nearly 20% of our diagnoses are occurring at stage 4.
Colorectal cancer is one of the most preventable cancers, so it is important to take steps to reduce your risk as early as possible. Talk to your doctor today about scheduling a colonoscopy at our state-of-the-art Gastrointestinal Lab – we promise you'll be in highly skilled, caring hands.
Learn more about the colorectal cancer care program and expert oncologists at our Cancer Care Center, which offers coordinated, comprehensive and individualized care from diagnosis to recovery.