Holiday Healthy Eating
Category: Blog
Posted On:
Written By:

Diane Nelson, DTR and Ruize Qian, WIC Intern
The holiday season is right around the corner! Following a healthy meal plan and being active will allow you to enjoy the season while maintaining your health and keeping your blood sugar levels in a healthy range.
Add healthier produce to your meals. Look for broccoli, mushrooms, spinach, green beans and other non-starchy vegetables. They are rich in fiber, lower in calories and won't cause a spike in blood sugar the way other carbohydrates can.
Don't starve yourself before a holiday meal. It could drop your blood sugars to a dangerous level and lead to hypoglycemia. Eat a snack beforehand. A piece of fruit, hummus and veggies or a handful of nuts so you don't arrive so hungry that you'll eat everything in sight.
Live by the 80/20 rule. Fill up on nutrient rich foods 80% of the time. Then 20% of the time enjoy your favorite comfort foods and deserts in portions that your meal plan outlines.
Stay hydrated. Drinking a bottle of water before a meal can help prevent you from grabbing an extra serving of mashed potatoes, and help your body eliminate excess glucose through urine.
Don't forget to keep moving. Being active can help make up for eating more than usual and reduce stress too. It also helps control your blood sugar levels by making your body more sensitive to insulin. Get moving with friends and family, such as taking a walk after a holiday meal.
If you have diabetes and are attending a holiday party, offer to bring along a healthy dish.
Brussels Sprouts Salad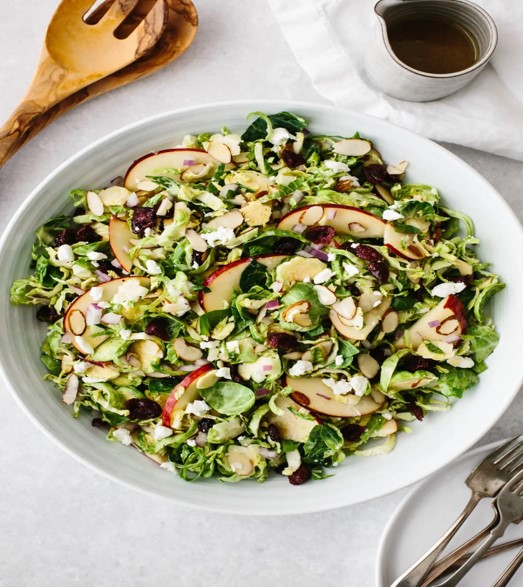 *See original recipe here.
Ingredients:
1 pound Brussels sprouts, shaved or thinly sliced, 1 red apple, cored and thinly sliced, ½ cup sliced lemons, ½ cup cranberries, ¼ cup red onion, diced, 2 ounces goat cheese.
Lemon vinaigrette dressing:
1/3 cup olive oil, 2 large lemons, juiced (approximately 1/3 cup juice), 1 teaspoon Dijon mustard, ½ teaspoon honey, or maple syrup, 1-2 garlic cloves, minced, salt and pepper, to taste.
Nutrition
Calories: 148 kcal, Carbohydrates: 15g, Protein: 7g, Saturated Fat: 2g, Cholesterol: 4mg, Sodium: 55mg, Potassium: 427mg, Fiber: 6g, Sugar: 6g, Vitamin A: 684iu, Vitamin C: 67mg, Calcium: 78mg, Iron: 2mg