OneLegacy Honors Organ Donor Anthony Javier Galvan for Giving the Gift of Life at 2023 Rose Parade
Category: News
Posted On:
Pomona Valley Hospital Medical Center's (PVHMC) Organ Donor Council was touched to hear the news that one of its late patients and registered organ donors, Anthony Javier Galvan, will be honored at the upcoming Rose Parade as part of a DonateLife float hosted by OneLegacy.
"Anthony Javier Galvan was a loving brother, son and a loyal friend. He had an infectious laugh and the most beautiful brown eyes that would light up the room. As a kid, he loved to ride his skateboard, ride his bike, and play online games. A few of his favorite hobbies were enjoying a day at the beach, going to amusement parks or to the racetrack with his friends.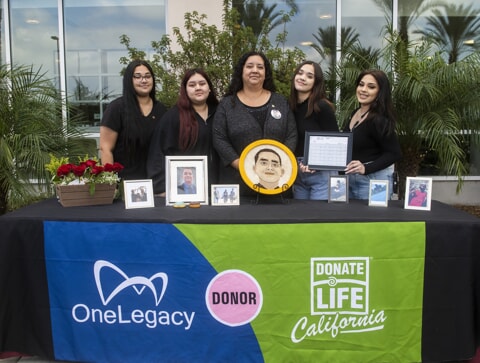 As he got older, he looked forward to the winter season. He couldn't wait to get his season pass to Mt. High to go snowboarding, he also loved going to Dumont Dunes and Glamis, and he enjoyed driving the Razor and the ATV on the sand dunes. He lived life to the fullest.
On June 15, 2019, Anthony was rushed to Pomona Valley Hospital Medical Center with severe head trauma. Anthony was struggling with mental health in silence, our family is heartbroken that he felt that he couldn't reach out for help. Anthony's death was due to suicide.
At the young age of 23, Anthony became a tissue donor. We found out at the hospital that Anthony was a registered donor, and it was an honor for us to respect the decision he had made. His life couldn't be saved, but his tissue donations improved the quality of life of 27 people. We are thankful the call was made to One Legacy. It brings comfort to us to know that he was able to heal the lives of others, even after death. Anthony's legacy lives on and so will his memory. 'You may be gone from this world, but your story is not over yet.'"
As part of this honor, OneLegacy creates a floragraph, or visual representation of the donor made out of flowers and other natural materials, that will be placed on the float alongside other donor honorees and their families.
On Tuesday, November 29, PVHMC had the special opportunity to be a part of the floragraph creation. OneLegacy and family members of Anthony came out to share his story of life and allowed our Associates, including Richard E. Yochum, FACHE, President/CEO; and Darlene Scafiddi, RN, MSN, Executive Vice President of Patient Care; to help complete the floragraph as well as rose dedications with personal messages of love, honor, hope and remembrance.
Anthony gave the gift of life to so many, and brought hope to even more family members and loved ones. We express our deep gratitude to all of those who are registered as organ donors and thank our Associates and Organ Donor Council for their continued efforts to support organ donation at PVHMC - because of you, lives are saved.
The OneLegacy float will be shown during the annual Rose Parade in Pasadena on the morning of Monday, January 2, 2023.