From Maternity Care to Motherhood, a Pomona Valley Hospital Medical Center Nurse Extern Finds Her Passion in Postpartum Care
Category: Blog
Posted On:
Vivian Colón, a Chino Hills resident and singer in local band Them Kool Kats, has been working and growing her practice as a nurse extern in Pomona Valley Hospital Medical Center's (PVHMC) postpartum unit for more than eight months. She loves obstetrics and women's health, and enjoys her vital role in helping women through their birth experiences and welcoming new babies into the world.
That's why Vivian was especially thrilled that she would soon be delivering her own baby girl at PVHMC, in her own department. Vivian's mother and grandmother were also born at PVHMC!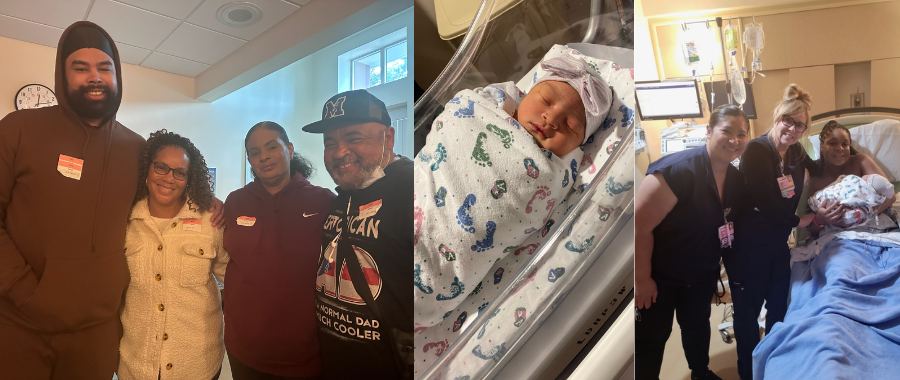 After her last three visits to her obstetrician, Dr. Stephanie Cropper, Vivian found out that her blood pressure was creeping higher and higher with each visit. She also learned that her baby was eight days ahead in growth and larger in gestational age and size. Toward the end of her pregnancy, she then began to experience severe edema in both legs, a possible warning sign of pre-eclampsia. With this in mind, Dr. Cropper advised her to schedule an induced birth.
"I was nervous about the birthing experience with this being my first child and knowing that she would be a larger baby," said Vivian.
It wasn't part of Vivian's birth plan to be induced, as she wanted to experience the process as naturally as possible, but she trusted the recommendations of Dr. Cropper, who was in regular communication with her in the days leading up to the birth to ensure she was making the best choice for hers and her baby's health.
"I'm glad I listened to my doctor," Vivian says. "As a nurse, I knew that she was advising me based upon her years of experience and good outcomes, and I appreciated that she was always there to answer my questions and ease my concerns."
On June 13, Vivian arrived for her induction. She was promptly admitted and given the induction medication and afterward walked the hall with her husband to aid in her dilation. Vivian says the staff was caring and made her comfortable, and she was happy to have no pain or discomfort in those first few hours.
Vivian was then administered Pitocin, a medication used to induce labor and boost contractions. She fondly remembers the efforts of one of her nurses, Lisa, who clearly explained expectations, medications and next steps as she labored, and even held her hand as she received an epidural. Even though her labor was long, Vivian's overall experience was positively memorable.
"Throughout my labor, my care team let me and my family take control of our room and environment. My husband played my favorite music for me – Alicia Keys – that I like to sing to with my band," she says. "It was relaxing, my family was there, and my close friends and colleagues were by my side encouraging me and shouting to push. Yet, it was still very intimate."
On June 14th, her daughter Naomi finally emerged, like a rock star, a celebrity, to the crowd of well-wishers.
"Everyone was waiting for her with flowers and there was so much love from my fellow PVHMC colleagues," Vivian says. "Naomi is a true PVHMC baby, she already has a large family here."
Vivian's mom, Jill Ridgway, RN, is a Medical-Surgical nurse at PVHMC for more than 20 years, and Vivian's aunt, Patricia, RN, is a labor, delivery, recovery, and postpartum nurse, both employed at PVHMC. Like her mother and aunt, Vivian shares their common passion for helping others and she plans to spend her career in post-partum nursing once she passes her NCLEX test.
"It's encouraging to see firsthand the work you want to do, and I know now, more than ever, that I want to continue my career in post-partum nursing," Vivian says.